Gamescom 2018 is well underway. Fortnite fans that were lucky enough to attend the event this year were greeted with a Fortnite-themed amusement park in one of the halls, offering an assortment of challenges and prizes like a free battle pass and an exclusive Fortnite spray of a purple pixel llama.
Those who couldn't attend the event to get this spray flocked to the web to try and find a pin down a code. Those looking for a reasonable scalper price might be S.O.L. Listings on reselling websites like eBay have been skyrocketing.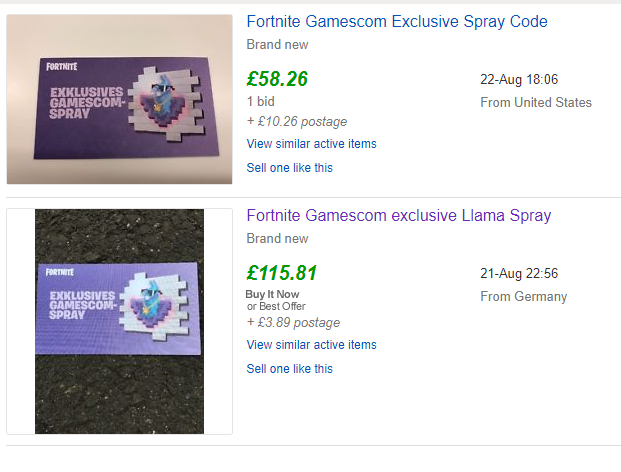 The codes, which only include the spray and nothing else, have been going for around $150 U.S. each, with the lowballers selling for around $80. The spray is one of two event exclusives that were revealed by Epic Games. Another spray is set to launch at PAX West at the end of the month.
The overpricing of codes should come as no surprise. Back in July, those looking to purchase the items given out at the PlayerUnknown's Battlegrounds Global Invitational 2018 were marked up to as high as $650 for the complete set.
With prices continuing to spiral for the spray, we can only hope that the PAX West sprays don't become as over-inflated as this one. Ah, who are we kidding. Break open that piggy bank.