If you like the idea of transforming your opponents into sheep, you'll probably be a fan of the Mage class in Hearthstone.

Within Hearthstone, Mage fulfills the class fantasy of spell-slinging magic user. Much like their World of Warcraft counterpart, Mage decks revolve around rendering your opponent helpless until you secure victory.

Rastakhan's Rumble brought in some interesting support for the Mage class through a number of cards. The main card that has earned a spot in nearly every mage deck on ladder is Jan'alai the Dragonhawk. This card is a seven cost 4/4 that summons Ragnaros the Firelord as long as you've dealt eight damage with your hero power so far in the match. Ragnaros is an 8/8 who can't attack, but deals eight damage to a random enemy each turn.
While Jan'alai appears to be designed primarily to make Odd Mage viable, it's almost too good to exclude from any mage list. Mage decks like Tempo and Control also received a boost from cards like Daring Fire-Eater, a one cost 1/1 that makes your hero power deal two more damage. Regardless of what kind of decks you enjoy playing, Mage probably has a list right now that is viable and that you'll enjoy.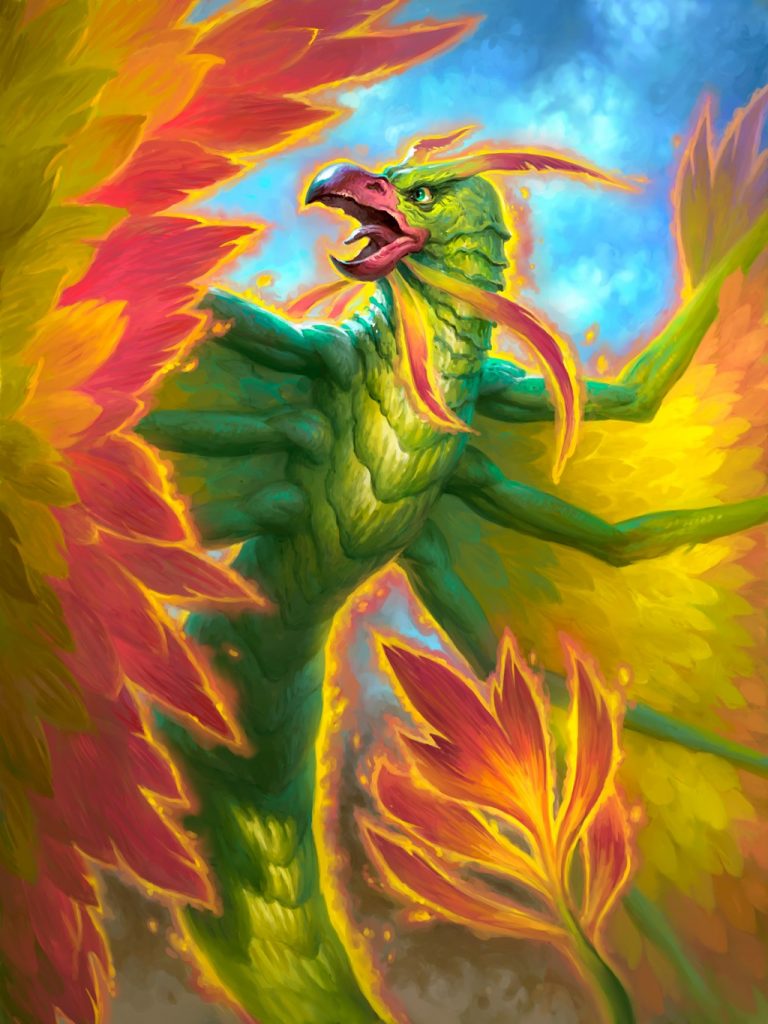 Odd Mage
By far the most popular Mage deck early in the expansion, Odd Mage is still finding success on the ladder, just not as much as it found during week one. This deck centers around the aforementioned Jan'alai. Since this is Odd Mage, your hero power will be buffed thanks to Baku The Mooneater. This card is a nine cost 7/8 that buffs your hero power at the start of the game as long as your deck only contains odd cost cards.

You'll want to use most of the cards in your deck to keep your opponent's board clear while you set up for Jan'alai. This deck plays a lot like a Tempo Mage deck, meaning you'll need to make the right moves at the right time. There will be instances where you want to use your hero power on your opponent's face, just to help cut them down for Jan'alai.

Your main win conditions with this deck are Jan'alai or Frost Lich Jaina. If you're able to drop Jan'alai on an empty board, your opponent's health will get chunked fast. If your opponent takes out your Ragnaros early, that means you fall back to a control playstyle and try to finish them off with an army of Water Elementals.

Big Spell Mage
BSM is a deck archetype that can be dominant in the right hands. The deck has numerous win conditions with the main one being Dragoncaller Alanna. This card is a nine cost 3/3 that summons a 5/5 dragon for every spell you've cast in the game that costs more than five mana. The rest of the deck is stacked with high-cost board clear such as Blizzard, Flamestrike, Dragon's Breath, and Meteor. Keeping this in mind, you can see how Alanna's effect would decimate an unsuspecting opponent.

The deck also includes a number of backup win conditions such as Frost Lich Jaina and Lich King. The most exciting new addition to this deck comes in the form of Jan'alai. In previous versions of this deck, the seven-cost minion spot was usually occupied by Astromancer.

This card's battlecry allows you to summon a minion whose cost is equal to your hand size. While this card did provide value to the deck, the element of randomness involved could make it hit or miss. With Jan'alai, you know you're getting a solid minion in the form of Ragnaros. Much like Odd Mage, Jan'alai has provided this deck with a huge boost in value.

Outside of its win conditions, BSM basically revolves around staying alive. A good way to think about this deck is to constantly ask yourself what kills you. If there isn't anything on the board that can kill you within two turns, you're usually winning.

Aluneth Mage
While this deck isn't as prevelant on ladder as the other two mentioned here, Aluneth Mage can be just as good if piloted correctly. This deck plays more like a standard Tempo Mage. Your objective is to do as much damage to your opponent as early as possible so they have to play defensive.

You'll want to keep the pressure on as long as you can, and then finally finish them off with a series of Fireballs or a Pyroblast discovered by your Primordial Glyph. This deck is pretty much identical to pre-Rastakhan versions except for the addition of Spellzerker.

Spellzerker is a two cost 2/3 that has two additional spell damage while damaged. This card provides value to the deck in a variety of ways. On one hand, your opponent will be iffy about using board clear on you if they can't finish off your Spellzerker in the process. You also have the option of damaging Spellzerker yourself with your hero power, then using its increased spell damage to drop enhanced Fireballs on your opponent's face.

Aluneth Mage is by far the most difficult deck to pilot that's been mentioned here, so if you aren't a seasoned Mage player you may want to avoid spending dust on this one.


Murloc Mage
Early in the expansion, it looked like Murloc Mage was done for because Odd was just more powerful. As January unfolds, it looks like there's good news for Murloc fans. While the deck isn't being played nearly as frequently as some of the other Mage archetypes, HSReplay has this list, which is sitting at a nearly a 54-percent win rate out of over 30,000 games played.
A big part of the reason why this list is being so successful is because players just usually aren't expecting it. If you're not facing an Odd Mage list right now, it's much more likely that you're facing Big Spell or Tempo. When you begin to drop and buff Murlocs turn after turn, your opponent usually isn't prepared for the early game pressure.

This is essentially the same list that was seeing play before Rastakhan's Rumble. You'll want to get your board full of Murlocs as fast as possible by using Book of Specters and Aluneth. Once your board is full of Murlocs, buff them up with stuff like Gentle Megasaur and wreck your opponent's life total.