The Nintendo Switch has already been breaking records this holiday season, but the hybrid system continues to do so in even more regions after selling an estimated 50,000 units on launch day in China, according to Niko Partners.
That's an incredible start for the console that's breaking into one of the biggest gaming markets on the planet, even though the library of games available for consumers in that region is limited. 
If that 50,000 unit mark estimated by Niko Partners is accurate, that means it's on track to hit 100,000 units sold by the end of 2019. 
"With over 50,000 units sold on launch day, the official China version of the Nintendo Switch is on track to reach our initial forecast of 100,000 units by the end of 2019," Niko Partners said. "We believe that the Nintendo Switch will replace PlayStation 4 as the market leader in China by 2022 when accounting for both legal and grey market sales."
Related: Nintendo Switch sold more than 830,000 units over Thanksgiving weekend in the U.S.
Senior Niko Partners analyst Daniel Ahmad pointed out that this launch was more impressive when taking into account the fact that the system has been available via gray market imports since its original release in 2017.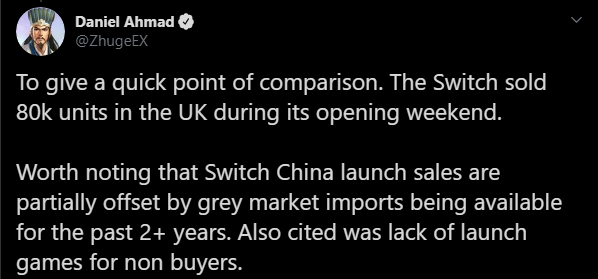 Compared to the U.K. launch where 80,000 Switch units were sold on the first weekend, the Tencent-partnered console is performing extremely well, especially since New Super Mario Bros. U Deluxe is the only first-party title officially available without import.