Magic: The Gathering's upcoming set Streets of New Capenna is a few weeks away, but you can already prepare for the mob-themed set with a pair of pre-order packs on MTG Arena.
The two pre-order bundles are specifically curated for the different types of players who enjoy MTG's online client—those who draft and those who prefer constructed formats.
Both of the bundles cost $49.99, but they will get you completely different in-game items and perks. They can be purchased until April 28 in MTGA's in-game store tab.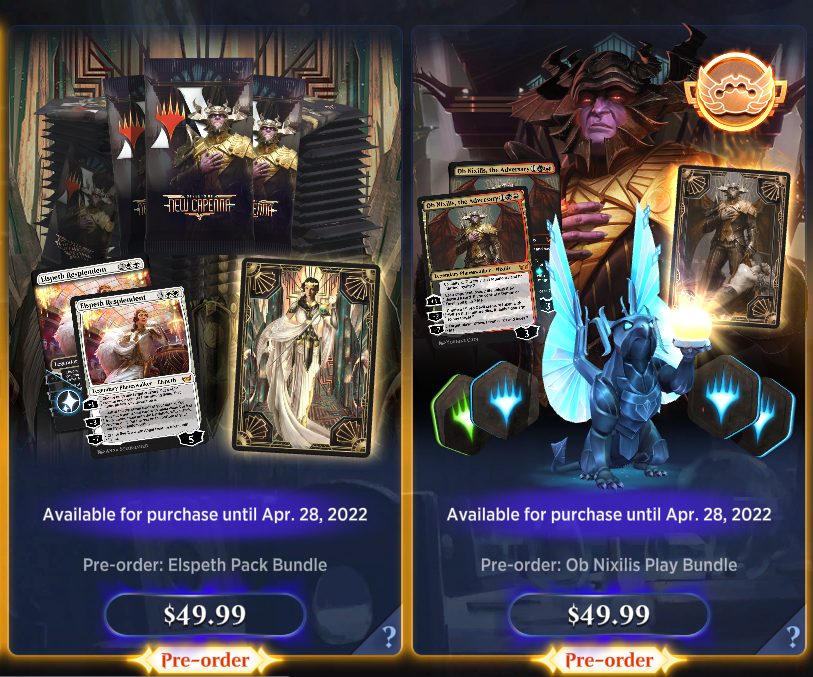 The Elspeth Pack bundle, which is catered toward constructed players, comes with a massive number of Streets of New Capenna booster packs. In contrast, The Ob Nixilis Play bundle gives players some draft tokens and a token for the set's Mastery Pass.
Here are all of the items players will get from each of the two pre-order bundles:
Elspeth Pack Bundle
50 Streets of New Capenna booster packs
One Elspeth Resplendent card and card style
Eslpeth Resplendent sleeves
Ob Nixilis Play Bundle
Streets of New Capenna Mastery Pass
Three draft event token
One sealed event token
One Ob Nixilis, The Adversary card and card style
Ob Nixilis, The Adversary card sleeves
Angelic Construct Pet