Well, it's clear now. TSM didn't look so good at Rift Rivals just because EU was playing horribly—they really are on a hot streak. They just threw down Phoenix1 in a 2-0 series to mark their triumphant return to the NA LCS.
TSM is all about speed this split. With Yiliang "Doublelift" Peng's return to the team, they've been upping the ante on their shotcalling. One snap decision after the next. Get a kill, take a tower, push a wave to set up the next one, move to dragon—TSM is steamrolling their competition with fast-paced, oppressive map movements. Not only are they stepping their game up on shotcalling, they're trying new strats and team comps every week to make sure they're ready when they make their run at Worlds.
Phoenix1 has had a lot of hype surrounding them for their fresh jungler, Mike Yeung. But they were in TSM's way this week, and TSM brought the rain. That's not to say P1 didn't put up a fight, though. During the first game, which was TSM's most convincing win of the series, they managed to take a key fight from TSM about halfway through the game. That fight was their glimmer of hope, but unfortunately, it didn't add up to much, and TSM continued to run circles around them.
The second game was when P1 woke up. TSM started to take another commanding lead in the early parts of the game when P1 threw down the gauntlet and showed up. While they were on fire, they managed to win a few key fights, including a sweep at Baron.
TSM wasn't done, though. After a series of tragic throws from P1, a glimmer of hope started to shine in TSM's eyes. Although P1 had compiled quite a huge lead, TSM was coming out of more fights on top—P1 couldn't close it out. If you glance at the gold charts at the end of the game, you can get a feel for just how drastic this throw was, but you had to watch to really feel P1's hearts break when TSM came off with the win. TSM is the red team, by the way.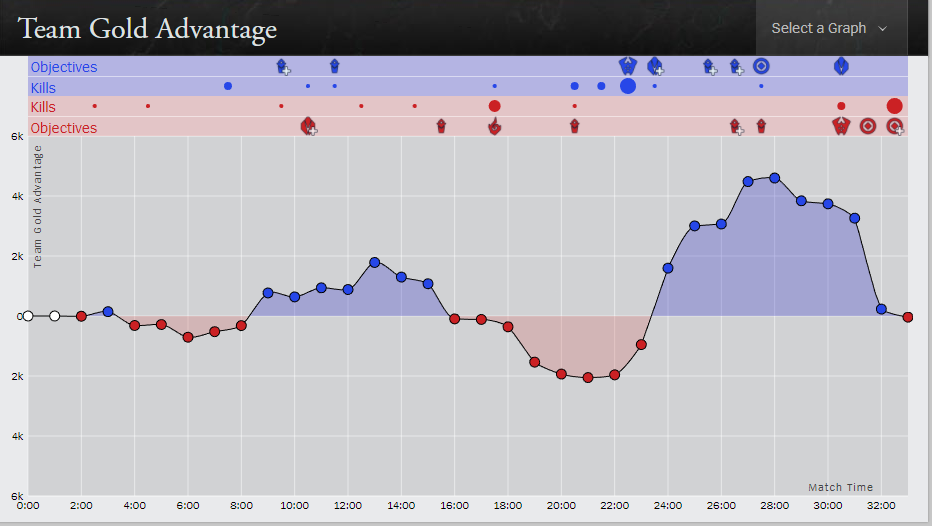 Even though P1 lost, this zero-win series wasn't a total catastrophe. Sure, they had trouble closing out the second game, but they put up one hell of a fight against arguably the best team in North America. Before Rift Rivals, this would have been unimaginable. But now, it looks like there may be hope for a top five finish for P1 despite an abysmal start to the Summer Split.
For TSM, however, the hype train keeps rolling. P1 looked really great at Rift Rivals, and they proved there that they're an opponent to be feared. TSM took them down, and they turn their gaze to last place Team Liquid—those sides will clash tomorrow.
About the author