Riot Games has issued punishments to Echo Fox Academy's jungler, AD carry, and support following a Reddit thread which revealed the players misconduct in ranked play.
Echo Fox Academy Top laner Mingyi "Spica" Lu, AD carry Tristan "Cake" Côté-Lalumière, and support Joshua "Mabrey" Mabrey were found to have violated the league ules, and have received punishments of varying degrees from Riot.
Although Spica was only "officially warned" according to Riot's announcement, both Cake and Mabrey have been fined. Mabrey has been fined $500 USD, and Cake $1,000 USD. In addition to these punishments, all three players have been placed on a one-year probation, lost the ability to have an unlocked game account, and will have their current accounts "regularly checked for toxicity."
Echo Fox as a whole has also been given a warning from Riot, and "must submit a plan within 45 days to the League on how they intend to educate their players and staff to foster a non-toxic team environment."
The Reddit thread which spawned Riot's punishments showed Cake, Mabrey and Spica intentionally target banning the champions of their teammates Willie P, and famous Twitch personality, Tyler1. Both Willie P and Tyler1 are players "who are publicly known to "one trick" specific champions," Riot said.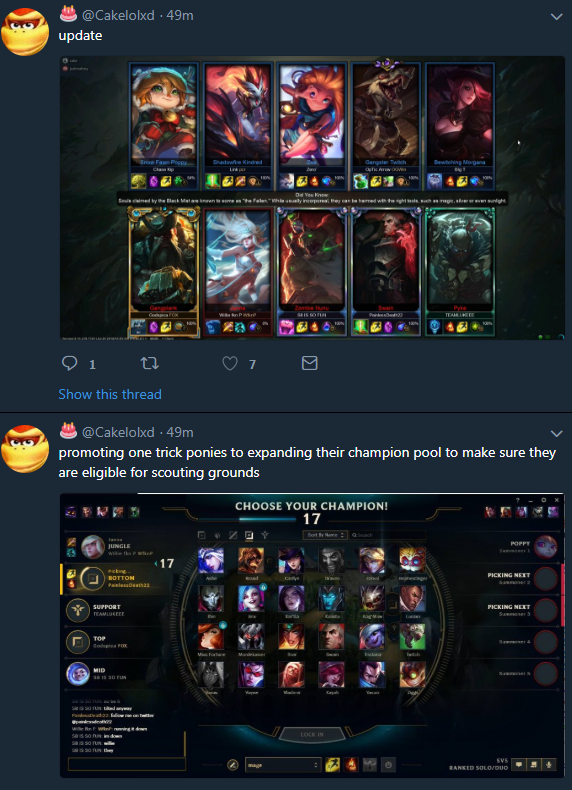 Also within the Reddit thread were screenshots of now deleted tweets from Cake where the jungler explains his motives, saying "promoting one-trick ponies to expanding their champion pool to make sure they are eligible for scouting grounds."
A Reddit user by the name of "ellumina" added to the thread, revealing that both Cake and Mabrey were disguising themselves in-game, using other challenger players' names as aliases. Since the Reddit post's release, both Cake and Mabrey have changed their account names.
While they admitted that simply banning a teammate's champion is not always considered griefing, Riot considered Cake's twitter post an act of taunting towards those he was playing with. Riot believed that Cake's tweets show "that the griefing was intentional, targeted, and coordinated."
This isn't the first competitive ruling Riot have handed out to Echo Fox in recent years. Last June Echo Fox mid laner Tanner "Damonte" Damonte was given a five game suspension for toxic behavior on both the North American, and Korean ranked servers.
Spica, Cake, and Mabrey all recently joined Echo Fox Academy last month following the changes made to Echo Fox's LCS roster.
Neither Echo Fox, nor any of the players punished have commented on today's competitive ruling.