Aatrox's massive update finally arrived today with League of Legends Patch 8.13. He doesn't just look prettier, either. This was a complete update of his gameplay, from his abilities to his animations, and that means if you want to play him, you need to re-learn him.
Fortunately, we were able to snag him a few times on the PBE during his testing cycle, as well as during a couple of games immediately after his full release, so we're able to help you out.
Combining our own knowledge with some recommended builds from pro players on League strategy site Probuilds, we've created a quick-start guide for you to shoot through. That way, you'll be able to spend more time crushing pesky Tryndameres and less time searching for builds and strategies.
Here is the quick-start guide to Aatrox's update, including items, runes, abilities, and gameplay tips.
Items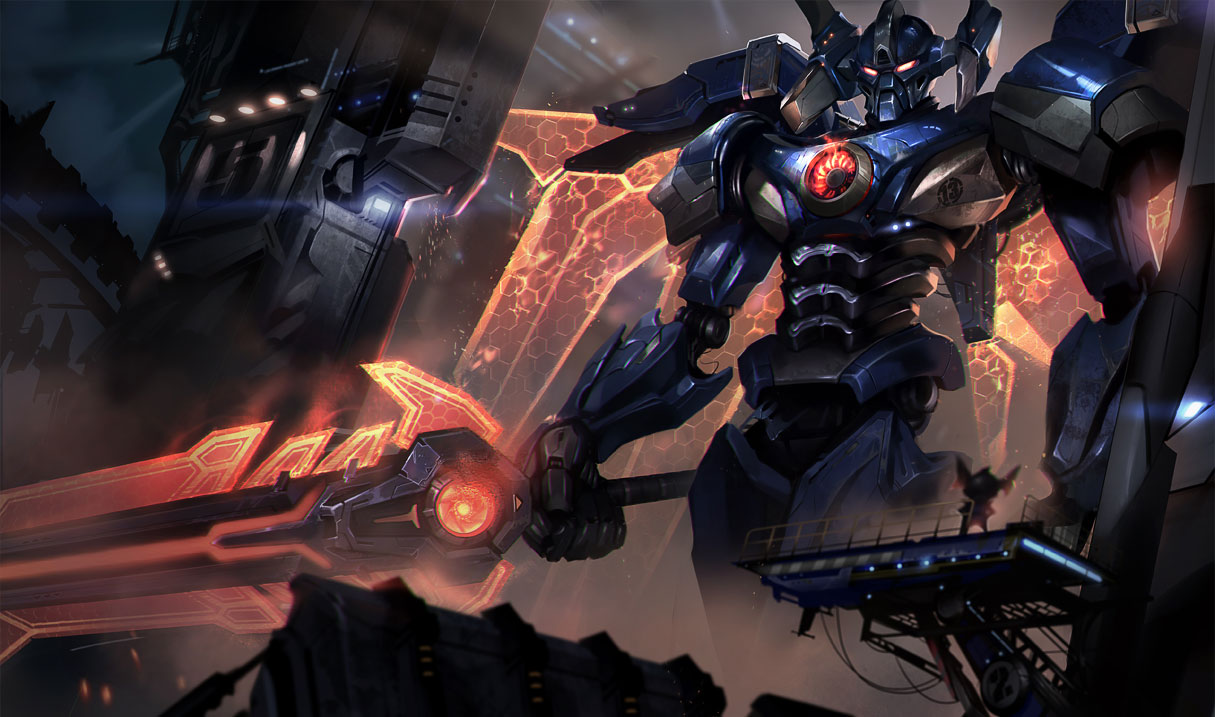 Along with Aatrox's new abilities, lore, and looks, Riot also changed his core theme as a champion. He is no longer a skirmisher or a duelist that relies on basic attacks, and if you try to build or play like one, you're going to have a bad time. He's now a juggernaut and a fighter, which means you need to focus on items that help with his AoE damage, as well as items that beef him up.
Black Cleaver
Ninja Tabi or Mercury's Treads
Death's Dance
Sterak's Gage
Spirit Visage
Dead Man's Plate
The Cleaver and Death's Dance are your core items, because they boost his AoE fighting capabilities. The physical damage dealt by Death's Dance allows Aatrox to heal with his wide, sweeping attacks rather than relying on basic attacks for lifesteal, and all physical damage dealt with the Cleaver lowers the target's armor and boosts Aatrox's movement speed. Both items boost his area damage without forcing him to rely on single-target DPS, which is exactly what he needs.
After that, things get fairly situational. Aatrox needs to tank up, sort of like Illaoi, so Ninja Tabi or Mercury's Treads for boots will go a long way if you pick the right one into your enemy's team. Sterak's Gage is a nice third damage item, because it boosts his tankiness quite a bit while giving him a big chunk of bonus AD, which he needs in order for his high-scaling abilities to deal damage.
The shield gives him a moment to breath in big fights, allowing him to use the Death's Dance and his own attacks to heal back damage. Titanic Hydra is a decent option to use instead, if you're so inclined.
The Spirit Visage is the only late item in this build that should always belong somewhere in his kit, unless he's fighting an all-AD team. The heal boost it provides works extremely well with his own self-healing, and it's boosted even more from the Death's Dance.
Runes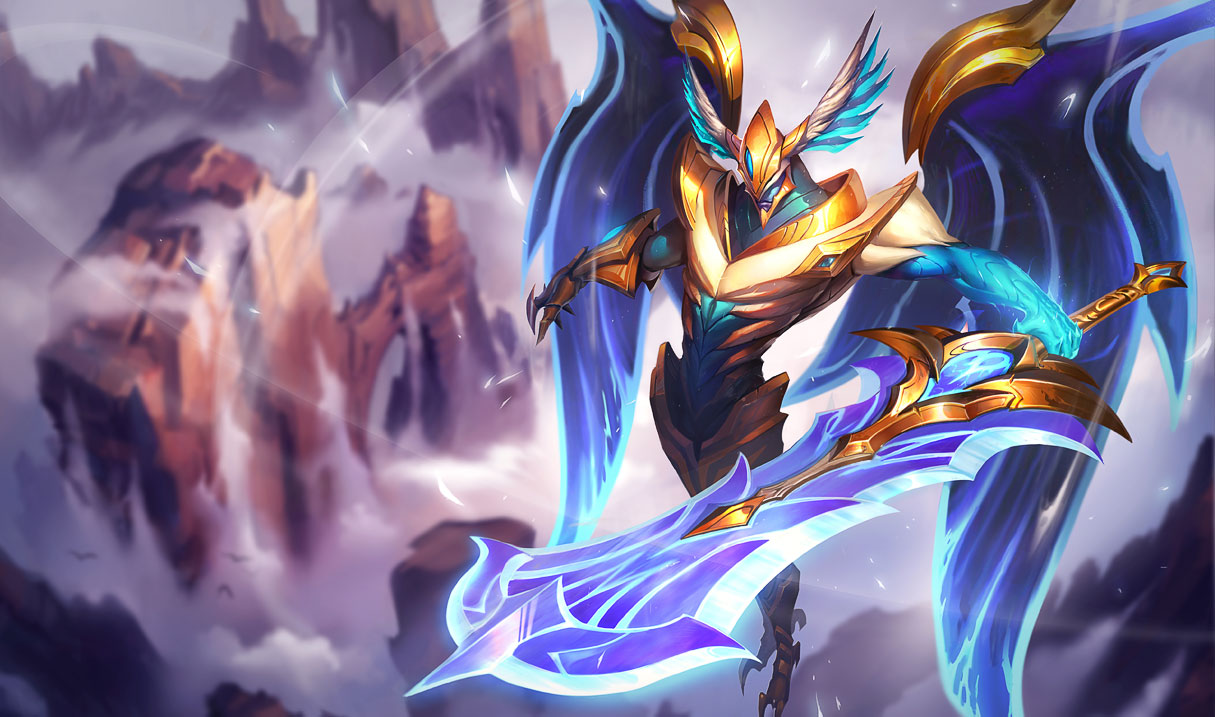 Similar to Aatrox's new item build, he does need new runes, too. You won't be able to get away with running Press the Attack or Conqueror as much, because he shouldn't be using basic attacks nearly as much. Instead, you should take the tanky route with Grasp of the Undying, which also synergizes extremely well with his new passive. Conqueror can still be run in certain scenarios, if you'd like, but be warned that it does feel weaker with his new kit.
Primary path: Resolve
Grasp of the Undying
Demolisher or Bone Plating
Chrysalis
Revitalize
Secondary path: Precision or Domination
Triumph or Sudden Impact
Legend: Bloodline or Ravenous Hunter
There are some great synergies between Aatrox and the minor runes he can take, so making sure you pick the right ones is very important. Bone Plating can give him tankiness in a pinch when diving into mobs of enemies, but Demolisher can make split-pushing much more devastating. Chrysalis and Revitalize are the only two necessary picks, as the AD from Chrysalis and heal boost from Revitalize work really well with him.
The secondary path allows you a little more freedom. Precision is the safer path, but Domination affords you more damage. Either way, make sure you take Legend: Bloodline or Ravenous Hunter to sync up with his self-healing kit.
Abilities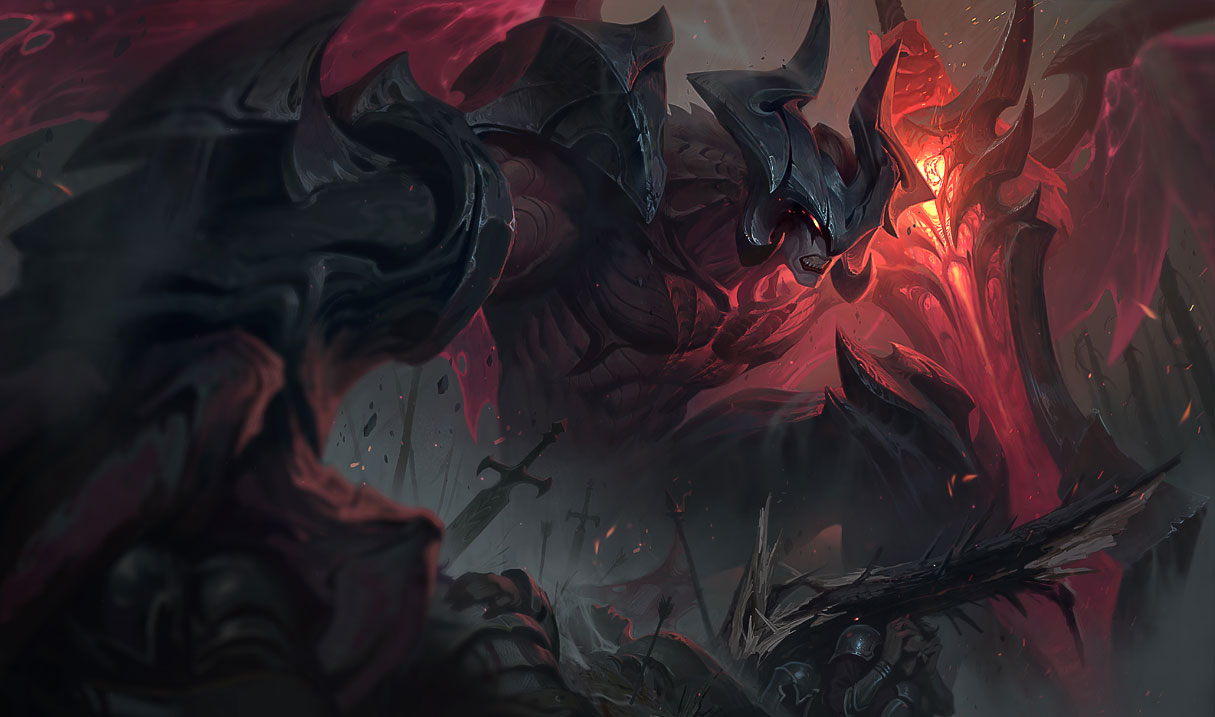 Aatrox's ability order is fairly straightforward, and there isn't much room for deviation. You'll want to start maxing your Q, simply because it's his primary damage source and it has laughable base damage until it gets some points. Not only that, but ranking it up also increases its AD scaling and lowers its cooldown by a full second per rank, which is great, because its cooldown is a little ridiculous at the start.
The Darkin Blade (Q)
Umbral Dash (E)
World Ender (R)
Infernal Chains (W)
After his Q, E is always going to be the right choice, because the new Aatrox is extremely immobile, and his E gives him a short amount of mobility. At max rank, its cooldown is a meager one second, making leveling it extremely valuable. Keep in mind, that's just how much time you'll have to wait between charges to use it, but charges will still take 12 seconds to load. The only reason we have World Ender above Infernal Chains is because, as an ultimate, it'll be maxed out before you can finish Infernal Chains, which is the last regular ability you should worry about.
Counters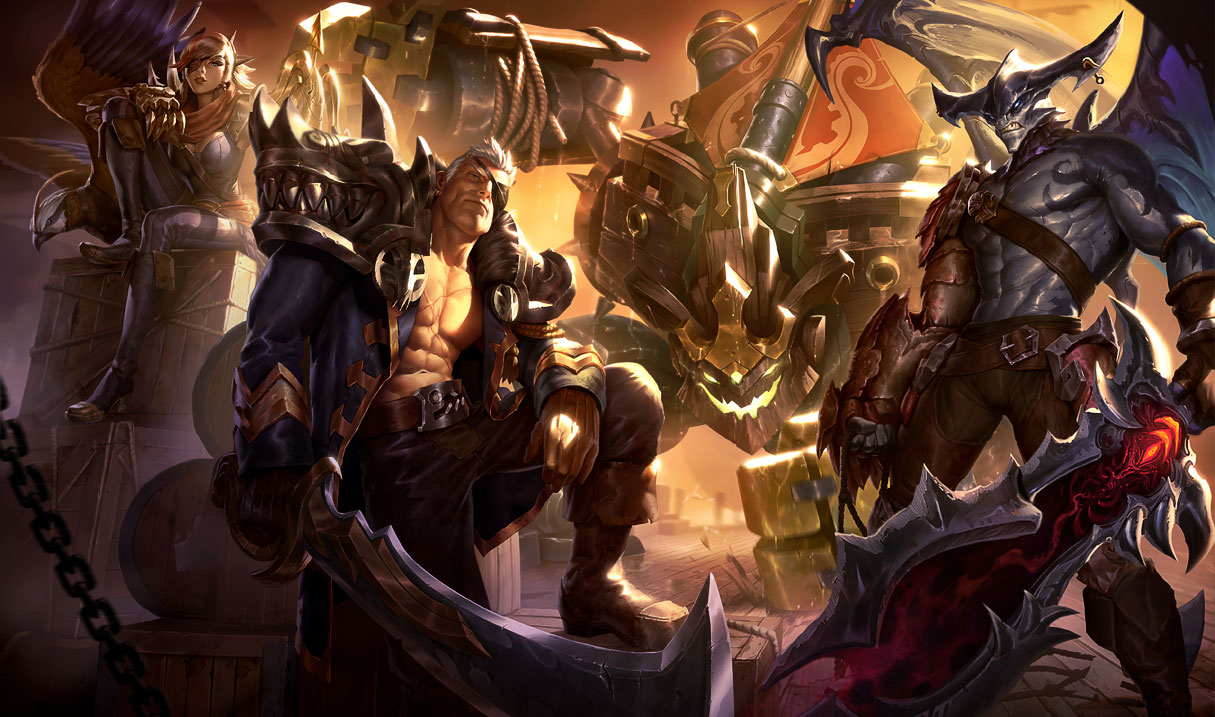 Aatrox does fairly well against ranged top laners, which is odd, considering most melee top laners struggle in that area. This is because he deals more damage by hitting champions with the tip of his Q's range, which is fairly long. In fact, in most melee match-ups, he'd have to back up a bit from the enemy before fighting, or he risks losing effectiveness. In order to counter him, you want someone that can get right up in his face very close that won't let him back away.
Riven is a good pick into him for that reason, as are Fiora, Yasuo, Darius, Camille, and Renekton. Tanks are decent at getting close and locking him down, but he performs better against tanks due to his passive, so fighters and duelists are your best bet. He can stomp the likes of Teemo, Jayce, Ornn, Cho'Gath, Sion, and Yorick if played properly, so avoid those match-ups if you're squaring off against him.
Aatrox is live now, so if you're hungry for some world-ending action, prep your rune page, get your list of counters ready, and dive on in.