As the Feast of Winter Veil draws to a close within the world of Hearthstone, a new adventure is beginning at the tavern.

The new year brings with it a new Tavern Brawl for players to test their skills. The first Tavern Brawl of the year is called Just a Hallucination.

Some players may be familiar with this brawl since it has showed up a handful of times throughout the game's lifespan. The first time the Hallucination Tavern Brawl appeared was in June of 2017. When entering the brawl players will be greeted by a screen that explains your deck is overflowing with hallucinations. You'll then have the opportunity to select a class before the brawl begins.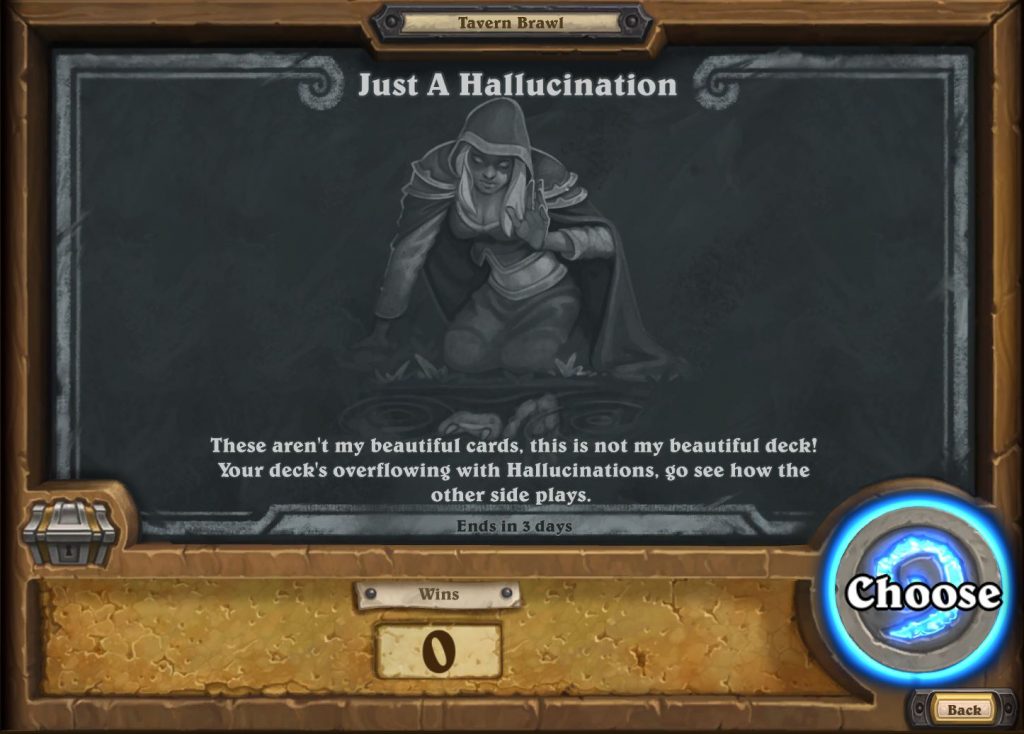 The hallucinations the game is referring to is quite literally the Rogue card Hallucination. This card is a one cost spell that allows you to discover a card from your opponent's class. While your deck will have a few spells from your own class scattered throughout, it will mainly be Hallucination cards. Keep this in mind when choosing your class, because this means your opponent will primarily be playing cards from your selected class against you.

This brawl has an insane amount of randomness associated with it, which means it can be difficult to formulate a strategy ahead of time. A good strategy that players have found to be effective in the past with this brawl is to choose Warlock as your class. Since Warlock has many cards that self-inflict damage, it can make it difficult for your opponent to get value out of Hallucination.

Warlock also gives you the card draw Hero Power, which ultimately will allow you to cycle through your Hallucinations faster than your opponent. This will hopefully allow you to control the tempo of the match and leave your opponent playing catch-up.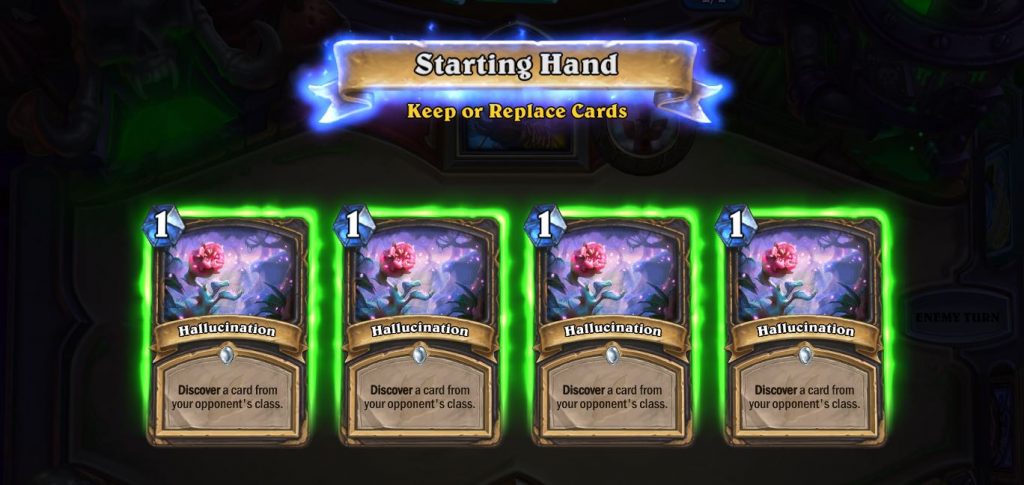 Another solid option seems to be Shaman. Since Shaman has so many cards with Overload effects, you can force your opponent into locking out their mana crystals. Shaman also has a high number of Elemental cards that rely on combo play with other Elementals to get value. This means your opponent will be forced to either not pick these cards, or hope they get lucky and discover more Elementals as they play their Hallucinations.

Should you be fortunate enough to win a Tavern Brawl this week, you'll be rewarded with a Rastakhan's Rumble card pack. Even if you're a player who usually doesn't spend time on the Tavern Brawl, this one is worth giving a shot for your free card pack. Since there is so much randomness involved, the match can really go either way, so you can expect to win eventually.