Blizzard sure is busy. Hearthstone's Knights of the Frozen Throne card reveals continue—now with Lilian Voss.
And with it, Blizzard continues the trend of adding random cards from your opponent's class to your hand. Lilian Voss doesn't seem like something that'd see quite a bit of play at first glance: lots of folks are calling it a meme card. The card replaces spells in your hand with those of your opponent's class. Rogue spells are good, so it's unlikely that you'd want to replace them, unless you've got something like Razerpetals, which are one mana and deal one damage.
Related: Simulacrum is the newest Mage card revealed from Knights of the Frozen Throne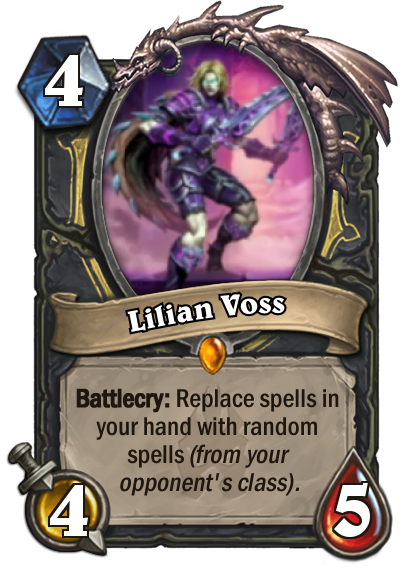 Turning those spells into something good from your opponent's class could be a game-changer.
It's possible that we'll see cards that have better synergy with Lilian Voss as more Knights of the Frozen Throne cards are revealed. And as you might expect, those will keep rolling out for the rest of the week.
As the card reveals continue, we'll get a better idea of how the next Hearthstone meta could play out.