Wild is going to be insane with the addition of the latest card revealed for Hearthstone's Saviors of Uldum expansion.
Cloud Prince is a five-cost Mage Elemental with four Attack, four Health, and a Battlecry. The card deals six damage if you control a Secret.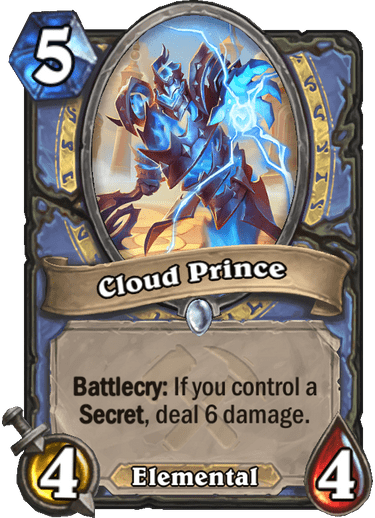 In Standard play, this isn't the best card. The Mage class is lacking Secrets, and if Blizzard doesn't release a couple more, Cloud Prince is destined for Wild.
It fits comfortably with Arcane Flakmage, another Mage card with Secret synergy that was revealed today. But realistically, they both need a few more Secrets to thrive. Cloud Prince is borderline broken when Mage has all the tools at its disposal and it'll definitely be a top-tier card in Wild.
Saviors of Uldum is scheduled to release on Aug. 6.