Hearthstone's Rise of Shadows expansion dropped on April 9 and has provided players with hours of fresh, competitive gameplay.
And now, Blizzard has revealed that players will receive more details about the solo content coming to Rise of Shadows next week, including its release date.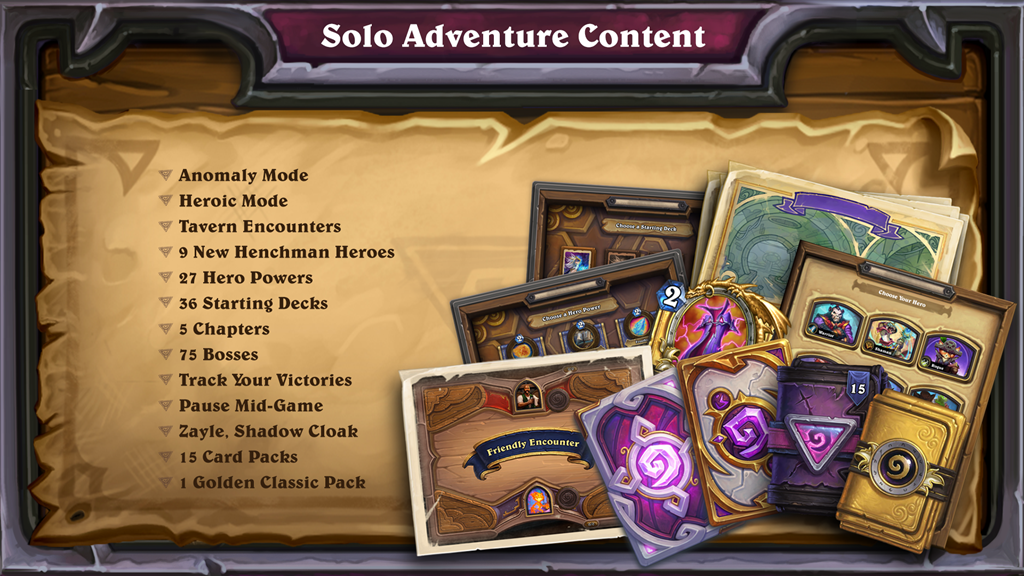 The above image was released earlier in the year alongside the announcement of Hearthstone's Year of the Dragon. Since the image is meant to illustrate the amount of solo content unfolding over an entire year, that means all of the things listed won't be coming this month. But some of them definitely will.
According to a comment on Reddit yesterday by someone on the Hearthstone design team, Blizzard will post a video revealing more details about the Rise of Shadows solo content next week on Thursday, May 9. The post also indicated that we'll learn the release date for the solo mode and can expect it to be very soon. The team says there will be a lot to talk about in terms of the Rise of Shadows solo content.
During the original reveal for Hearthstone's Year of the Dragon, Blizzard said it planned on changing the game's solo content in a big way going forward. Much like in World of Warcraft, Blizzard would like to see Hearthstone expansions explore an overarching storyline. If this is the case, the solo content we receive this month should lay the groundwork for this year's story going forward.
Keep your eyes glued to the official Hearthstone YouTube channel where you can catch the video premiere sometime on Thursday, May 9.