Mechanical keyboards are like beer: They're an acquired taste. Some players love the click-clack sounds they make with each key press, while others think they're an archaic novelty that's best left in the Windows 95 era.
That said, for esports athletes that want immediate response times while playing first-person shooters or MOBAs, a mechanical keyboard is the way to go. The HyperX Alloy FPS RGB Mechanical Gaming Keyboard is the company's latest initiative to gain traction among esports players and enthusiast gamers, and there's plenty of reasons why gaming athletes should pay attention. Beyond the company's sponsorship deals with big names like Cloud9, Echo Fox, and the Intel Extreme Masters, HyperX's mechanical keyboards are competitively viable and feel great to use.
For one, the HyperX Alloy FPS RGB features the Kailh Silver Speed mechanical switches with a 1.1mm actuation point with a 3.5mm travel distance and a 40g operating force, and the keys themselves are rated at 70 million keystrokes. In short, this keyboard is fast, sensitive, and highly durable, and it doesn't require much pressure to use. To move with WASD in Overwatch, I just gently tapped on my corresponding movement key, and my hero moved immediately. For esports players interested in minmaxing, just a light tap will suffice, making this a pretty nifty keyboard for games that require fast reflexes and faster response times, like Dota 2 or StarCraft II.
Like the name implies, HyperX's Alloy FPS RGB keyboard also features an RGB lighting system that users can customize through HyperX's official NGenuity software suite. The keyboard defaults to a rainbow spectrum that runs horizontally across the player's keys, creating a pretty nifty lighting effect that's perfect for esports streamers that want to show off. Of course, players can simply leave a solid color running during play if they find the lights too distracting. Most interesting of all, players can also hook up phones and other USB devices to the keyboard, letting them charge their smartphones or bluetooth headphones while they play.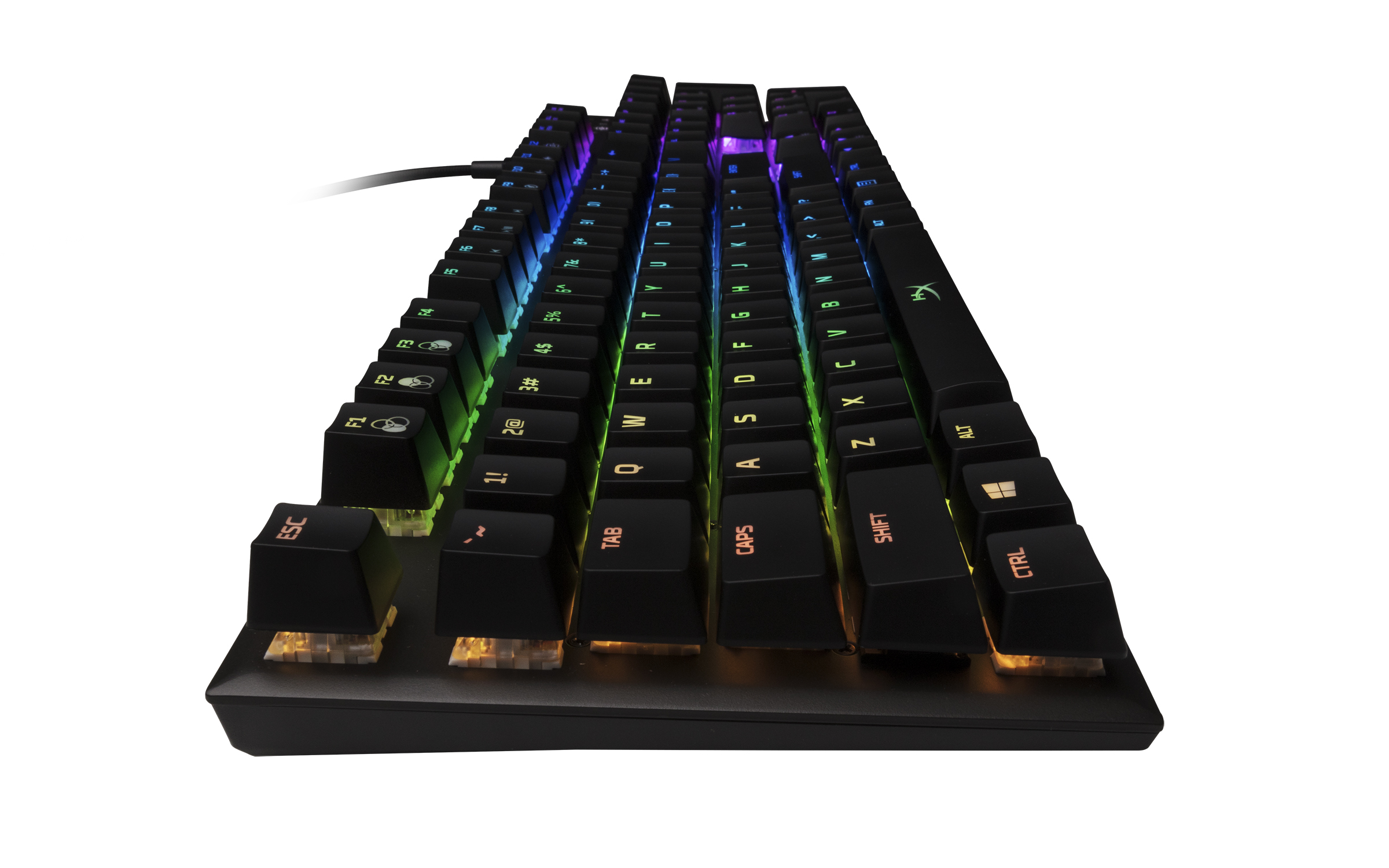 Lighting effects are fancy, but this keyboard's biggest selling point is its portability: HyperX's Alloy FPS RGB is pretty small in size and height, and it's easy to carry compared to other mechanical keyboards. The entire setup plugs into a computer through its USB connector, which can be unplugged from the keyboard at any time, and because the keyboard lacks a dedicated control console, it's the perfect size for storing in luggage or even a backpack. This makes it incredibly easy to travel with the HyperX Alloy FPS RGB, so for players who are constantly on the go, competing in bring-your-own-computer tournaments, or particularly nit-picky about their peripherals, this keyboard is a great choice.
Not just that, but for esports players with barely any space in front of them, this keyboard works wonders. I have an incredibly compact setup because I live in a small apartment, so my gaming desk is actually one of the smallest home office desks available from IKEA. When I received HyperX's Alloy FPS RGB Mechanical Gaming Keyboard, I was admittedly a little worried that it would be too big for my setup, which includes the Logitech G Pro Wireless Gaming Mouse and PowerPlay charging mouse pad. After replacing my Logitech G105 with HyperX's mechanical keyboard and setting up its ergonomic wrist rest, however, I found the entire system worked perfectly for my desk.
See for yourself below.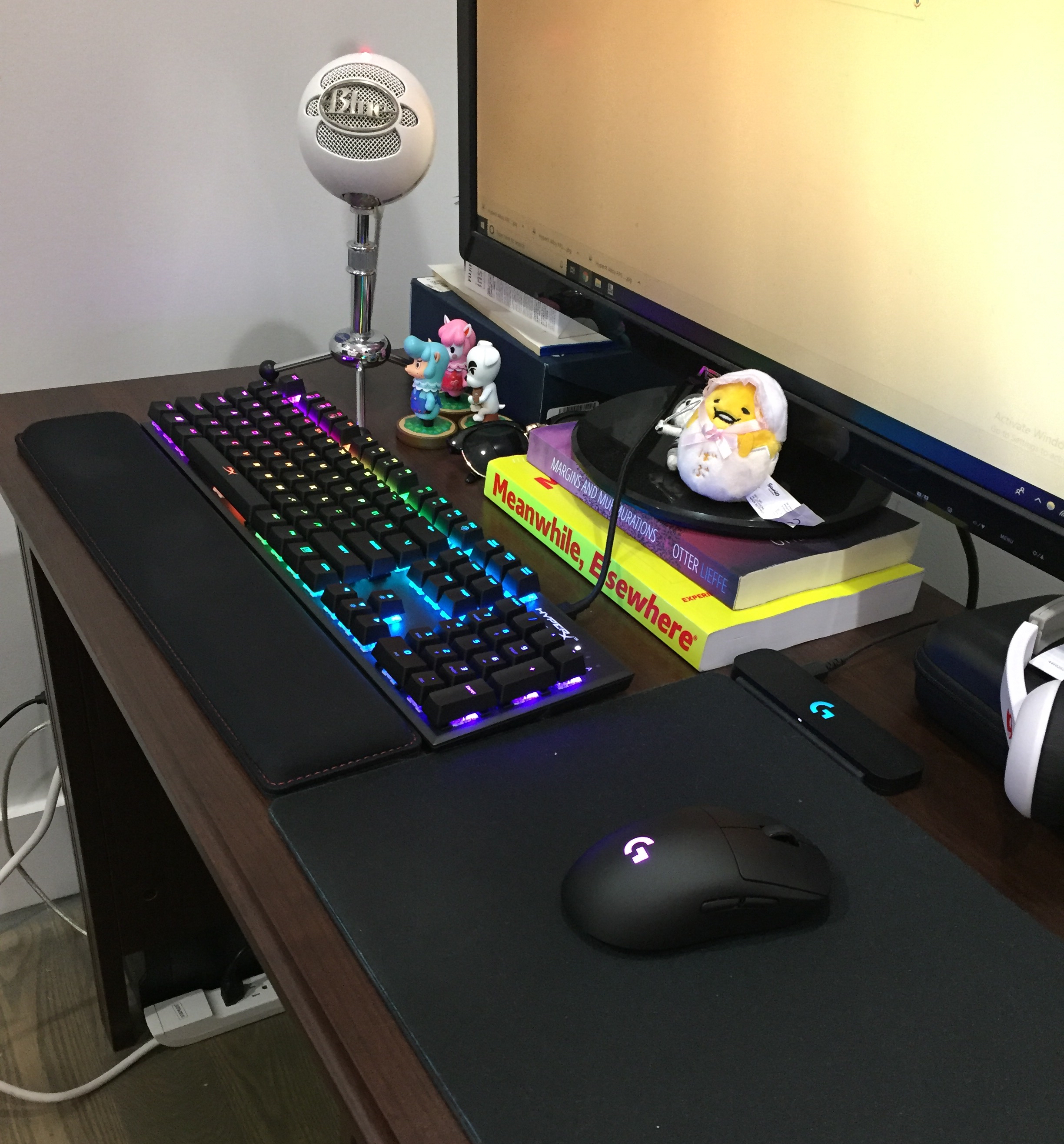 Sure, it's not the most spacious setup in the world, but it convinced me that this keyboard is perfect for players living in tight spaces or regularly traveling to play. The same can be said for organizers, too. If you're constantly packing and unpacking keyboards for your gaming convention, LAN tournaments, or gaming cafes, the HyperX Alloy FPS RGB takes up minimal space while giving your players plenty of room to breathe.
That said, there's a couple things to keep in mind before pulling the trigger on this keyboard. Price is a major factor here, as this mechanical keyboard costs $109.99. That's pretty affordable all things considered, making the HyperX Alloy FPS RGB a great entry level mechanical keyboard, but keep in mind that you're paying for what you get: A compact and simple keyboard.
For one, there's no built-in wrist rest like the HyperX Alloy Elite RGB. If you prefer minimal space between yourself and your keyboard or you really want to keep travel considerations to a minimum, this isn't a problem, it's a selling point. But for players that prefer a larger keyboard with a wrist rest attached to the base, throwing in an extra $19.99 for the standalone rest may make this keyboard a non-starter when the HyperX Alloy Elite can be purchased for as cheap as $79.99 on Amazon.
As far as game-specific bells and whistles go, the HyperX Alloy FPS RGB Mechanical Gaming Keyboard doesn't feature many. Players can turn on "Game Mode" to prevent the Windows key from ruining their matches, and there's multiple player profiles that players can create for different games, but beyond the cool LED lighting effects, this keyboard isn't trying to do anything too crazy: It's focused on sensitive and durable key inputs for competitive gaming first and foremost. Seeing how the Alloy FPS RGB is advertised as a compact solution that's easy to travel with, it's a shame that HyperX didn't design this keyboard for wireless compatibility too, even though the cabled setup works pretty well overall.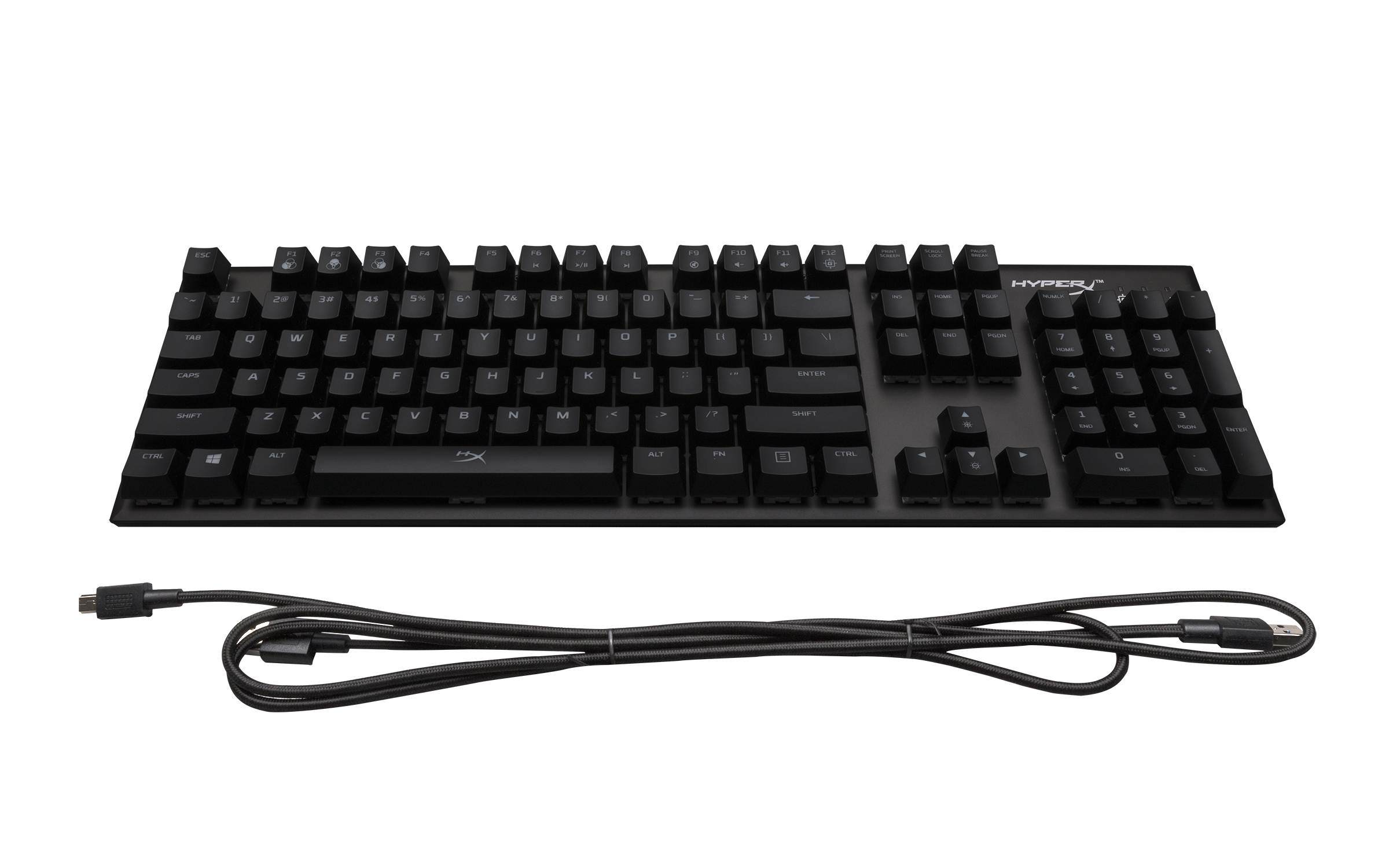 Most of all, while HyperX's Alloy FPS RGB Mechanical Gaming Keyboard is one of the most responsive mechanical keyboards on the market, if you already own a mechanical keyboard that's fast, responsive, and works well for you, then there's no reason to make the switch to this one. Unlike the Logitech G Pro Wireless Gaming Mouse, which is specifically engineered to minimize the delay between the player's clicks and their in-game actions, the HyperX Alloy FPS RGB has plenty of competitors on the market that perform similarly during play, and chances are you already own one of them if you're an esports player. For sure, my performance improved in Overwatch and Counter-Strike: Global Offensive after switching from a membrane keyboard to a mechanical one, but I can't imagine a mechanical keyboard owner would benefit too much from making the horizontal "upgrade" here if they already own a Razer Huntsman or so.
In short, if you're looking for a reason to bring a mechanical keyboard into your gaming life, or if you need a compact and easy-to-carry keyboard for hopping from flight to flight for tournaments, the HyperX Alloy FPS RGB Mechanical Gaming Keyboard is a great pick. It's sleek, compact, sensitive to the touch, and just feels good to use. It's not a must-have if you're already confident in your current peripheral's abilities, though, making it a tough sell to esports stars looking for an immediate improvement to their setup.
| | |
| --- | --- |
| Pros | Sleek, compact, durable, and fast, the HyperX Alloy FPS RGB is a solid mechanical keyboard for players and tournament organizers interested in a responsive and portable peripheral. |
| Cons | You'll need to bring your own wrist rest or buy one straight from HyperX if you want to keep your hands healthy, and there isn't a reason to switch to this keyboard if you already have a mechanical keyboard that works well for you. For a portable gaming keyboard, it's a shame this one isn't wireless. |