Fabric gaming chairs have become increasingly popular, as gamers start to favor more breathable and higher quality materials from their seat of choice.
Fabric gaming chairs are just as comfortable as PU leather, because they have a softer touch and breathable fabric. Most fabric chairs also have the same adjustability and designs as PU leather alternatives, making them comfortable for marathon sessions.
The best overall fabric gaming chair
Corsairs T3 Rush has the universal bucket seat design favored by gamers but switches the PU leather for breathable fabric upholstery in gray/charcoal, gray/white, or charcoal. Like most bucket gaming chairs, the T3 Rush has vents on either side of the headrest for cooling purposes and comes with removable back and lumbar support pillows.
Adjustability is another strong point of the T3 Rush, and it offers 4D armrests and 100 millimeters of height adjustment. While most gaming chairs only recline up to 165 degrees, the T3 Rush goes all the way to 180 degrees so players can lay back and relax when they're taking a break from playing.
Most Corsair products like its headsets, mice, and gaming cases are known for their high quality, and the T3 Rush is no different. Its only downside is its limited customization options, which can be overlooked because of its affordable pricing. 
The best customizable fabric gaming chair
Buyers looking to create a custom gaming chair might be interested in the Secretlab Titan Evo 2022 Series. Secretlab chairs are known for their quality, and buyers can customize everything from the size to the color and fabric to suit their requirements.
This chair comes in Secretlabs Softweave fabric with three sizes and eight color options to choose from. The sizes include Small with a 200 lbs (90kg) weight limit, Regular with a 220 lbs (100kg) weight limit, and XL with a 395 lbs (180 kg) weight limit. Some of the eight available colors include Black, Mint Green, Arctic White, and a Minecraft theme.
The Titan Evo 2022 Series has some of the best customization options, but it doesn't come cheap. Its price can reach double the cost of the T3 Rush, depending on the options. At least buyers pay for premium quality and get a five-year warranty for some peace of mind.
The best fabric gaming chair for plus size gamers
The Arozzi Vernazza Soft Fabric is an alternative for plus-size gamers who are hesitant to pay big money for the Titan Evo 2022. It has the same racing seat design with a large backrest and a 320 lbs (145kg) weight capacity. The steel frame and five-star aluminum base are solid, and height adjustment accommodates taller occupants.
There are four color options available, and buyers can choose between Light and Dark Grey, Blue, or Ash. All the options come in Arozzi's soft fabric and include neck and lumbar support pillows embossed with the company logo.
It may be cheaper than the Titan Evo 2022, but the Arozzi Vernazza is still pricey and more expensive than the T3 Rush. That said, it's still a worthwhile option for gamers looking for an oversized gaming chair with a high weight capacity.
The best high-end fabric gaming chair
The Logitech G X Herman Miller Embody has a unique ergonomic shape different from any other gaming chair. The downside is that it's the most expensive gaming chair on the market and out of reach for most buyers.
This chair is based on the Herman Miller Embody and includes some Logitech touches to give it a more gamer vibe. The standard Embody chair has ribbed backrests that adjust to the user's back. Logitech adds more copper-infused padding to the seat and an extra strip of padding to the backrest. The backrest and adjustment levers come in Logitech's signature blue color scheme, and there's also a company logo on the backrest.
Some of the adjustability options on the Logitech G X Herman Miller Embody set it apart from all other gaming chairs. It has a feature called Posturefit that supports the lower back, and another called Backfit that adjusts the backrest's shape to match your posture.
There's no doubt that this gaming chair has some of the best ergonomics and can adjust to give the users a perfect fit. On the other hand, it's still very pricey, even with the 12-year warranty.
The best bean bag fabric gaming chair
The Big Joe Milano is perfect for sinking in and playing some Overwatch in comfort. It's made from a fabric called SmartMax that's stain-resistant and easy to clean and comes in various colors, including Fire Engine Red, Espresso, and Gray Shag. The interior is filled with the company's UltimaX Beans, and they are available separately so buyers can refill the chair whenever it starts to flop.
For a bean bag chair, the Milano is tough with double-stitching and two safety zippers. There are no wheels, but at just 7.8-lbs, it's still light enough to move anywhere and has a built-in handle. This chair is an alternative to conventional gaming chairs, but it isn't the best for PC gaming and is more suited to consoles, like the PlayStation 5 and Xbox Series X.
The best floor fabric gaming chair
X Rocker's Crash Pad XL is another gaming chair more suited to console players than PC gamers because its low seating position isn't ideal for desks. The exterior features grey fabric only available in a single color called anthracite grey, while the interior has soft foam padding.
When folded, the Crash Pad XL resembles a couch and comes with a soft pillow. It can also fold out into a three-ft (90 cm) futon so players can lay back and take a nap.
This gaming chair has a soft feel and is ideal if you want to sink in a relax instead of sitting upright. Its pricing isn't bad, but some buyers might be disappointed with the single color option.
The best value fabric gaming chair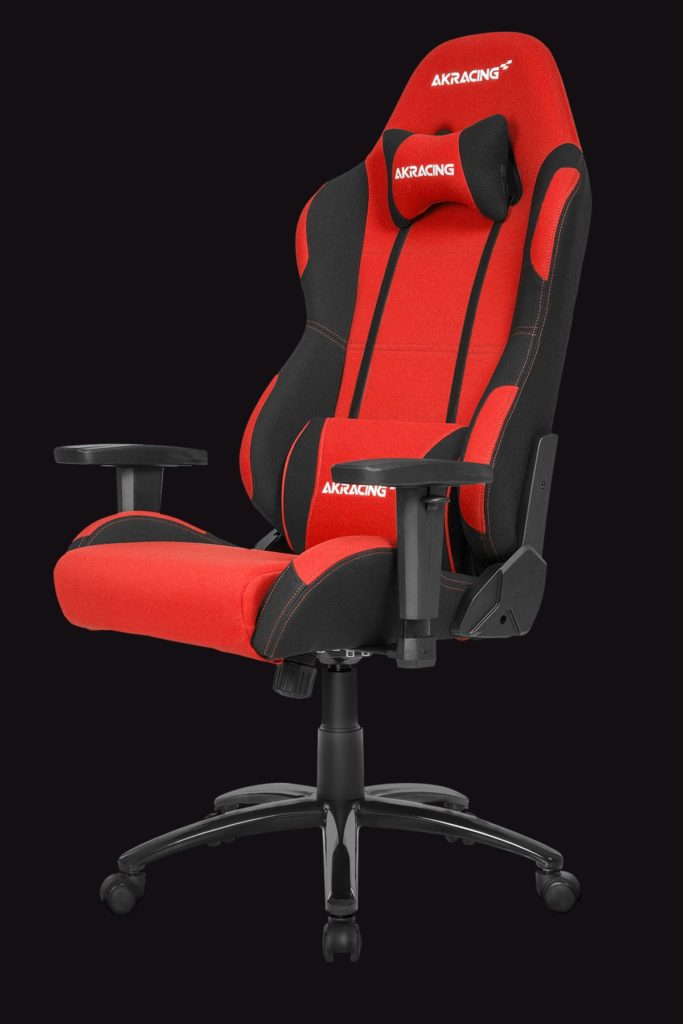 The AKRacing Core Series EX is an affordable racing chair available in a range of bright colors. It's made from soft, breathable polyester mesh upholstery and some of the available colors include Black, Black/Blue, Black/Red, and Carbon Black SE. Like most bucket-style gaming chairs, lumbar and back support pillows are included for added comfort.
Like the T3 Rush, the AKRacing Core Series EX folds down to 180-degrees, and it also tilts up to 18 degrees. Buyers can also adjust the height between 16.9 to 20,2-inches (42.9 to 513 cm) depending on their size.
AK Racing's Core Series EX is a worthwhile option for buyers looking for a comfortable chair at a reasonable price. They can also choose between subtle dark colors or go for something brighter to match the room. For an affordable chair, there's a long 5-year warranty and a 10-year warranty on the frame.