There are a lot of things to remember when streaming. From tweeting out that you're live to switching overlays and keeping an eye on chat, it can often be overwhelming for first-time broadcasters and veterans alike. The new Stream Deck, with its programmable buttons and direct linking to broadcasting software and social media, aims to streamline the whole process.
Elgato announced the Stream Deck in March, touting it as a "professional-studio-grade controller" with the ability to configure up to 210 actions via 15 LCD keys and the option to assign folders. It's now available on the Elgato website and Amazon for what it calls the "affordable" price of $149.95.
With a fairly steep price point for a piece of hardware that isn't necessary for streaming, you'd expect the device to be perfect. And it is—for the most part.
The Stream Deck arrives in an unassuming blue box. Inside, the sleek-looking device is nestled in foam with a quick start booklet, which essentially tells you to plug the Stream Deck directly into a USB 2.0 port on your PC or Mac and to download the app. One thing to note: The Stream Deck does require a PC with Windows 10 (64-bit) or a Mac with macOS 10.11 or later—so if you're running on an older operating system, you're out of luck.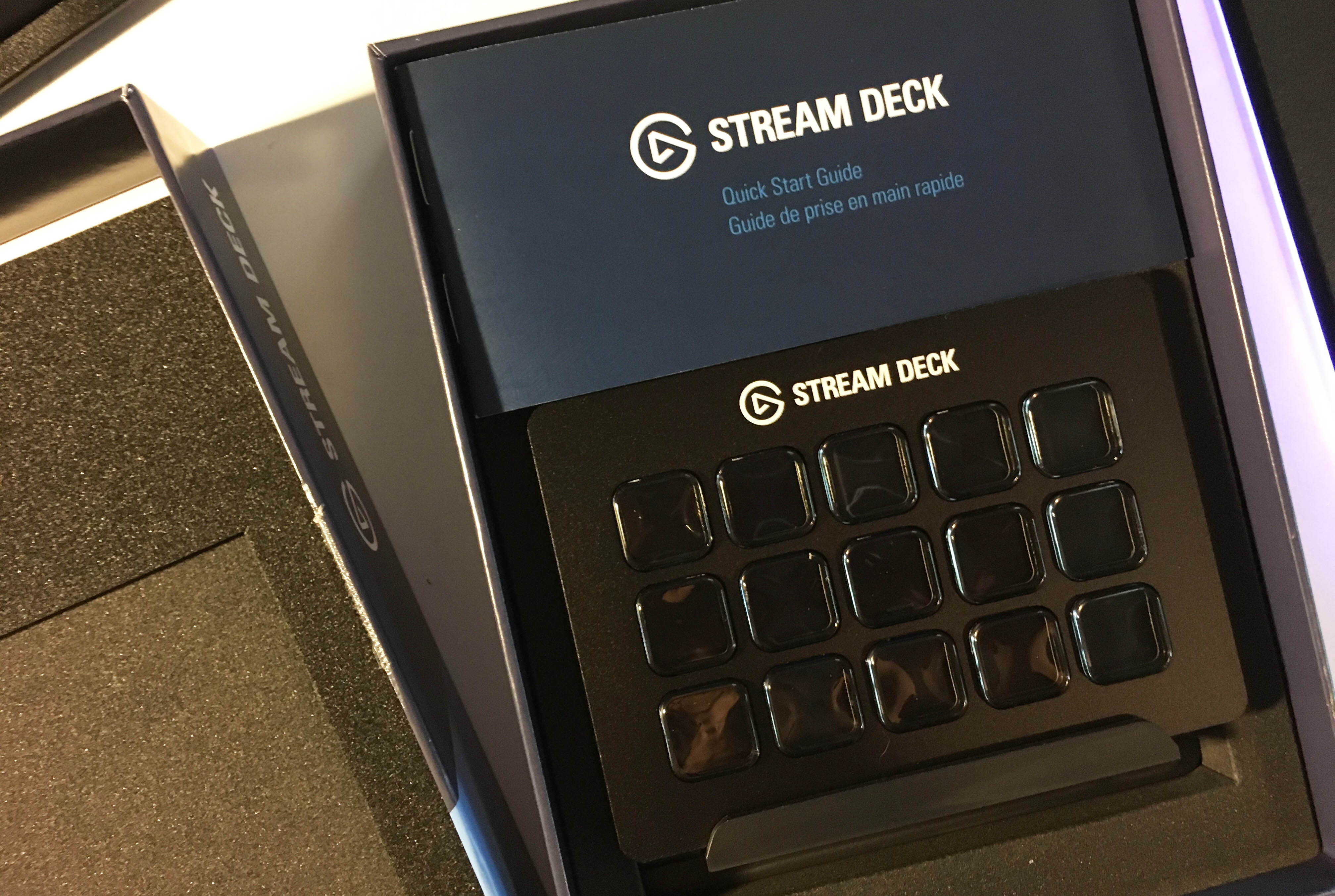 The app is fairly intuitive. It shows the buttons on the left and the different options for their customization on the right, such as Scenes in Game Capture and OBS to Sub and Slow Chat on Twitch. Users just have to drag and drop their choices onto the buttons, using the drop down menu to choose specific scenes, or fill out the description field for the button itself, so you'll never confuse your overlays. To change a button's image you just have to click on it and upload your custom art.
Overall the setup and installation process was simple, although the Stream Deck app did crash the first time we tried to link it to our Twitch channel, and wouldn't open again until we restarted the computer.
For our test of the device, we added multiple scenes, a tweet, the multimedia folder (so we could skip songs or pause the music in Spotify), and a direct link to the mic so we could mute and unmute. It all worked without a hitch, with the little LCD displays subtly denoting which buttons were active.
Being able to switch between different scenes and overlays with the touch of a button was really useful, and will come in handy for people with one screen—or those who have two screens but can't move their mouse over while in-game (without potentially missing something important and getting killed).
We've only had a few days to play around with the Stream Deck, so it's possible we'll find more issues as we get to know the device better and experiment. Elgato promises that it will "extend software support through regular, free updates."
Pros: The Elgato Stream Deck is a good alternative for streamers looking to take their broadcast to the next level or just simplify their process. It eliminates the need for extensive hotkeys or an expensive broadcast switchboard, which can easily run into the thousands of dollars. The drag-and-drop feature is intuitive and the device itself is very sleek.
Cons: It's $149.95 for a non-essential piece of hardware. If you've got two screens and you're considering buying it mostly for scene changes, you might be better off saving your money, since you can already have your broadcasting software open and easily accessible at all times. While the app does have some big integrations, it's still limited in its capacity. It would be nice to be able to link to tools like Streamlabs and Muxy.