Plug in the Elgato Cam Link and you're good to go—if you've got the right goods.
Cam Link is a thumb drive–sized adapter that allows its users to turn their cameras or camcorders into webcams. With it, high-end cameras, like DSLRs, are made compatible with streaming services and recording devices.
Out of the box, the Cam Link comes with the device itself, the USB 3.0 extension cable, and a Quick Start guide. The Cam Link itself is reminiscent of a USB flash drive. The USB port plugs into the computer, and an HDMI cable plugs into the back of the device.
The USB 3.0 extension cable is important if you're lacking the space needed to plug in the device. Probably not much of a problem on a desktop, but we needed the extension cable when using a laptop running a USB cooling system, mouse, and Cam Link. The Cam Link won't fit with another USB device plugged in right next to it—it's a bit too bulky.
The Quick Start guide included also provides a link to download Elgato's own game capture software, but that's not a necessity. The device works with OBS, Skype, and other broadcasting software.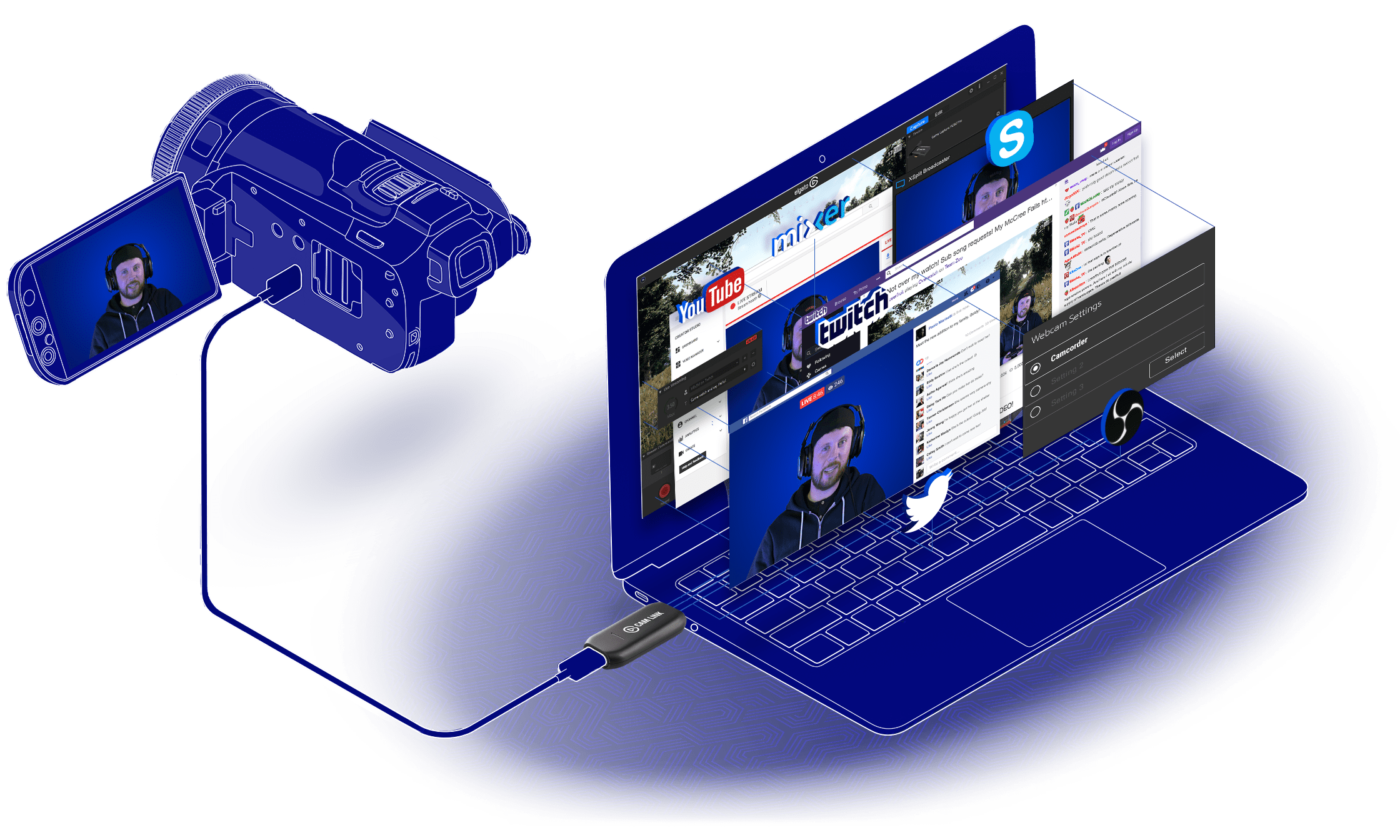 You'll need an HDMI cable to plug the Cam Link into your camera. The kind of HDMI cable depends on your camera. Is the HDMI output a regular size, mini HDMI, or micro HDMI?
It's a direct feed straight from the camera to your computer, once you've selected the source properly inside your streaming software. What comes out of your camera, from there, depends on the camera and its compatibility. Your camera, like the one we tested the Cam Link with (Canon 6D) may not allow video captured to be cleanly output.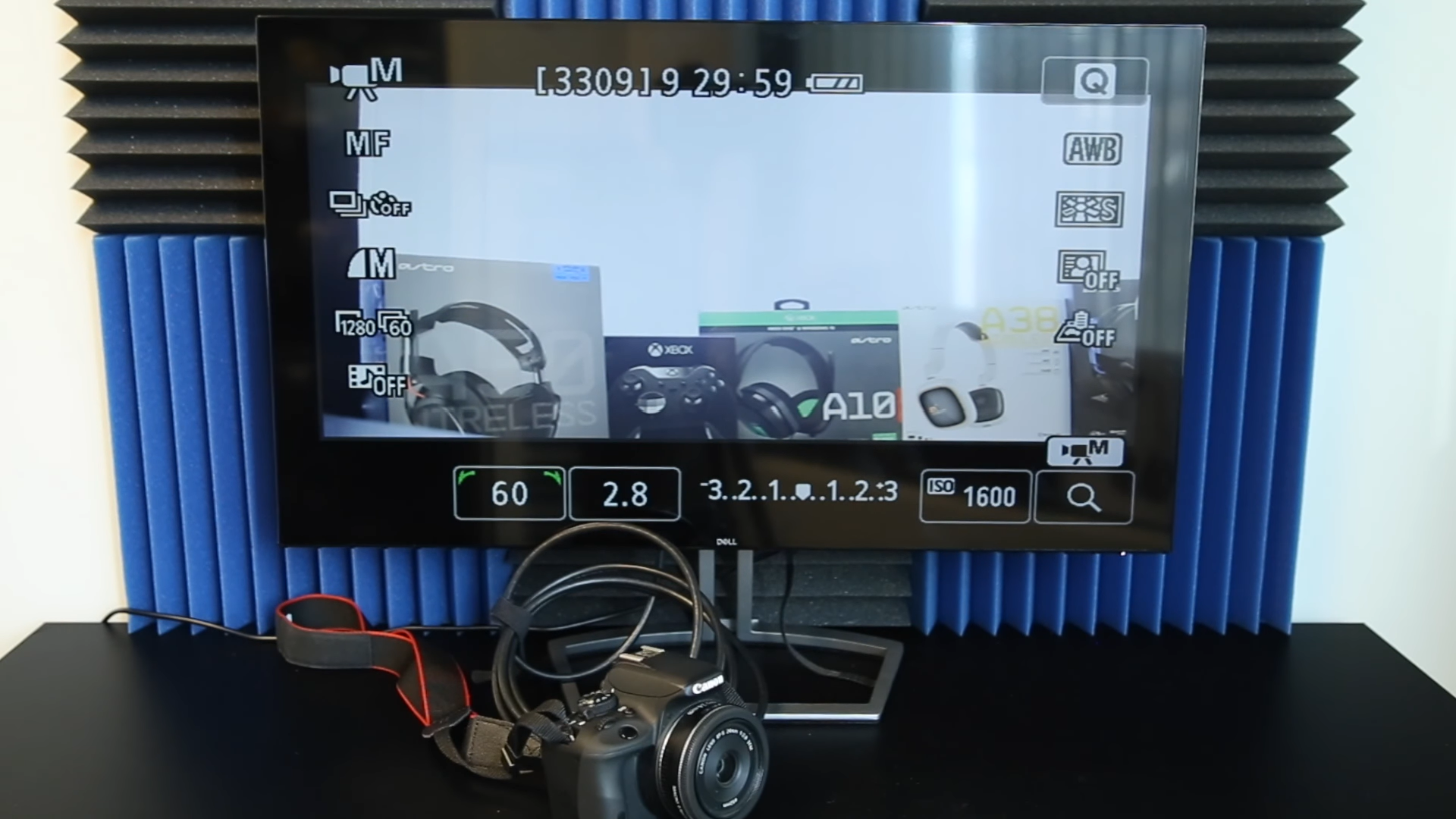 The Canon 6D, and some other DSLR cameras, don't have an option to turn off the camera settings overlay for video output. The video that shows up on your screen will have the settings overlay, shown above, which isn't ideal. Using an external software downloaded straight onto your camera, you can force the overlay off—but that makes it far from "plug and produce."
There are plenty of cameras that don't require this kind of external tweaking, and that list is available here. For many of these cameras, you simply will be able to plug and produce, as expected.
Video that comes out is high-quality, with minimum latency. All content is stored directly on your computer's hard drive, and you're able to access real-time feedback. If you've got the right gear, it's a great product. But if you don't, you might find yourself annoyed at the process. It's not hard to tweak, but it's not ideal. For streaming, you'll also want to pick up an external charger that'll allow you to charge the camera while in use. Recording video will zap battery extremely quick.
We'd recommend ensuring your camera is compatible with the Cam Link before buying.
Pros: Elgato's Cam Link is a neat little tool for upping your stream quality and professionalism. It's really easy to use if you've got a compatible camera. There's really no setup time at all—just plug in the device and choose it as your webcam from the streaming software.
Cons: Not all cameras will produce quality output from the Cam Link. Depending on your camera, there might be some extra work involved in setting up the device. Elgato's Cam Link is also a bit pricey, at $130.
Price: $130 on Amazon