Some of us don't want to game on high-end PCs. We just want to play on our Xboxs—but with a mouse and keyboard, of course.
For many, it's just because they prefer it. But there's also no denying that, if you have a mouse and keyboard, you're going to dominate against your controller using opponents. It is, it's fair to say, a little unfair. But at the same time, for some of us, a mouse and keyboard just feels right.
Unfortunately, the official Xbox Chatpad just won't cut it, and there's no official support for an external mouse and keyboard. Luckily for you, there are a handful of adapters that work with the Xbox One, so you can plug in your best keyboard and mouse and be ready to wreck shop.
Cronus Max
First on our list is the Cronus Max. It's pretty much the bare minimum when it comes to being able to play on your Xbox with a mouse and keyboard, but hey, as long as it works, right? The only downside to it, though, is that it only has one USB slot for your peripherals, which means you're sort of out of luck if your mouse and keyboard have their own individual USB dongles. But hey, if you have a pair that connects to the one, you'll have no issues. The Cronus Max comes with a bunch of preloaded profiles, and you can quickly switch between them to suit any game you need. You can also create and customize your own profiles, but it may take some getting used to and isn't as easy to do as it is with some other adapters. While it is primarily used for cross-platform controller support, the low price of $60 makes it a good option for mouse and keyboard play too.
Titan Two
While The Titan Two is still in the beta stage, it's still a great contender in the mouse and keyboard adapter market, and is built with durability in mind. It's superior to its predecessor, the Titan One in every way, and resolves a lot of issues consumers had with it. Firstly, it doesn't connect straight into the console. The cable it comes with is long enough so that you can keep it out of harm's way. It also has an SD card slot, which means you don't have to keep connecting it to the PC when you want to load in scripts or updates. Just store them on the SD card and keep it connected to the console.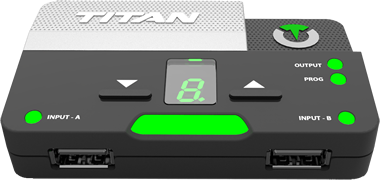 Venom-X
The Venom-X is a unique entry on this list—in the fact that although it comes with a mouse, it doesn't actually come with a keyboard. We know, we know, madness. Still, the peripheral it does come with—which kind of looks like the Wii Nunchuk—works beautifully, and hey, when it comes to precision, the mouse is the main part, right? The best part about the Venom-X is that it comes with all of these extras, which makes it a great product to buy if you don't want to fork out extra cash to buy another mouse and keyboard. The controls are low latency, and you can have either a wired or wireless mouse. You can even add weights to the mouse to get it feeling just the way you want it. It is on the pricey side, costing around $140, but it's one of the only worthy adapters that comes with a controller and mouse.
Keymander
They Keymander is another fantastic choice that offers an unprecedented amount of configuration options to create the best possible profile to match your gaming experience. While you do need to do a bit of work on the PC to set it up, creating and customizing profiles is a piece of cake, and it already comes preloaded with a bunch of popular profiles, with a ton ready to download from their website, should the preloaded ones not fit your playstyle. Some of the options you can customize within the profiles include eliminating the dead zone usually associated with a lot of console games, which stop the player moving if its analog stick is a bit wonky. It's especially important to have no dead zone when using a mouse so that you can get that pinpoint accuracy. Additionally, there are options to counteract mouse acceleration, so you have steady movement across the board, and can identify exactly where you'll be aiming when you move the mouse. Costing $90, the Keymander is an excellent choice to consider if you're looking for maximum customization.
XIM 4
While a lot of the other options on this list are fantastic to use and have next to no latency, the XIM 4 is just a touch better in every regard. It's got a sleek design, and virtually zero lag. It's incredibly easy to set up and connect your devices, and with two USB slots, your mouse and keyboard combinations are limitless. It's got profiles for all the latest games, and support and firmware updates are continuously being released. There's also no mouse acceleration to get accustomed to, which means your muscle memory for how far you move the mouse and where you expect to be pointing is reliable. Costing $125, the XIM 4 is the best adapter to use if you want as close a simulation to playing on PC as possible.
There you have it! These are the best adapters you can get until Xbox releases official support for mouse and keyboard play. Be warned, though. While these adapters are untraceable, some competitive game developers frown upon their use. Just keep that in mind when you're securing the most frags for your team.