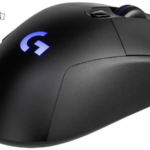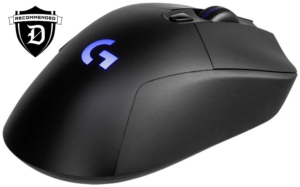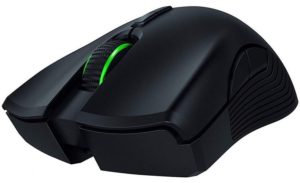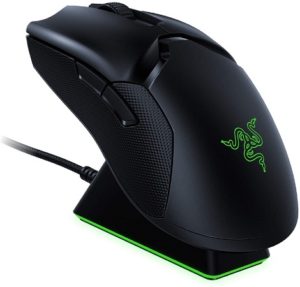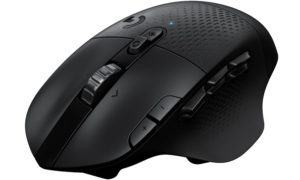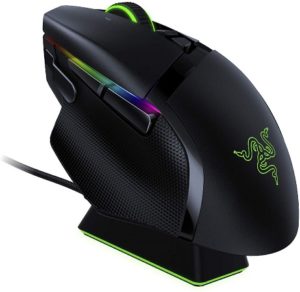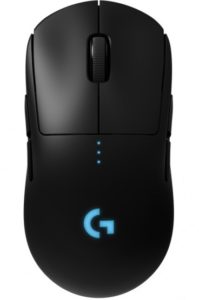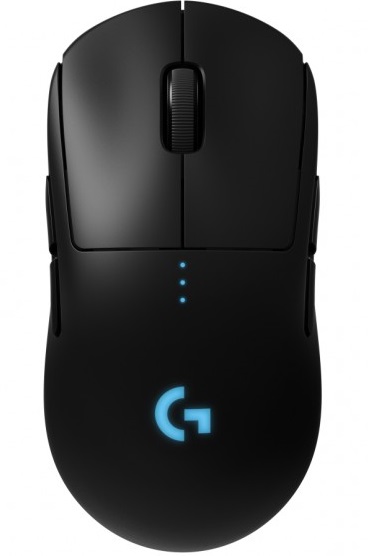 If you're in the market for a new mouse, there are plenty of good options. Wires and cables can be infuriating to fix or clear on your desk, leaving unnecessary clutter and an extra wire you need to hide to have a clean setup. Wireless mouses remove this clutter entirely, however.
Despite having a bad reputation since the existence of gaming peripherals due to their high response time and occasional disconnect issues, wireless gaming mice have come a long way to offer the same level of performance as their wired rivals, if not better.
They're especially appealing to streamers and gamers who despise cable management. There are multiple factors to consider while choosing a new wireless gaming mouse, though, including price, hand size, grip, comfortability, and sensors.
Though picking the perfect mouse will always be difficult without going into a store and trying them yourself to ensure the best fit, we've gathered the best wireless gaming mouse on the market to narrow down your search and help you on your quest for excellence.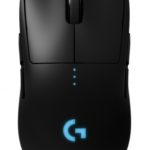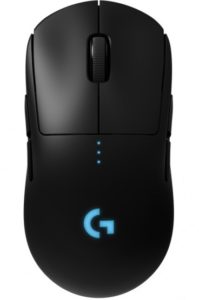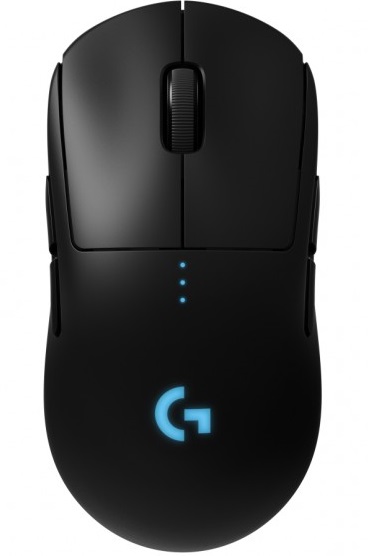 Used and made by professional esports athletes, the Logitech G Pro Wireless has an incredibly fast one-millisecond response time connection, which lets users play without delay, just like the pros. The mouse uses Logitech's HERO sensor, which can poll up to 16,000 DPI.
Some players need multiple side buttons for various hotkey assignments. The Logitech G PRO Wireless Gaming Mouse has two on each side. And another positive is that both can be removed if users don't require them, allowing for a clean mouse feel in the palm without any annoying bumps.
The G PRO is exceptionally light at only 0.13 pounds (80 grams), making it one of the lightest mouses on this list. Its low weight allows for precise movement and swift flicks. This advantage is amplified by the mouse having no cords other than for charging.
Approximate size (HxWxD): 125.0 mm (4.92 in) x: 63.5 mm (2.5 in) x: 40.0 mm (1.57 in)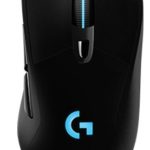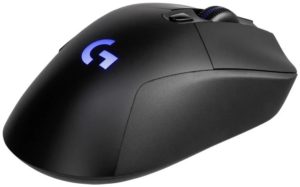 The Logitech G703 Wireless Gaming Mouse is the sibling of the Logitech G Pro. It features many of the same positives at a lower price but with a slight dip in performance, making it a solid contender if you have a tight budget.
The mouse features a similar ergonomic design to the G Pro with a couple of twists, however. Despite being shorter than the G Pro in height, the G703 is a wider mouse, which can make it easier to hold for gamers with large hands. The mouse features two programmable buttons on one side that you can even use for your homebrew hotkey macros.
It features a one-millisecond response time and rocks a PMW3366 sensor that can go up to 12,000 DPI. You can also use Logitech's G HUB software to adjust your surface tuning settings for a better tracking experience.
Approximate size (HxWxD): 124 mm (4.88 in) x: 68 mm (2.67 in) x: 43 mm (1.69 in)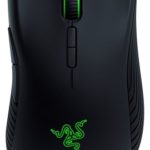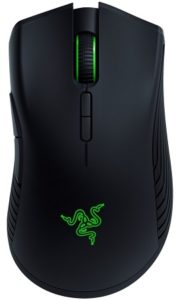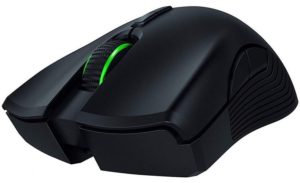 The Razer Mamba Wireless features Razer's proprietary adaptive frequency technology. This reduces the input delay of using a wireless mouse compared to a wired device, making the mouse extremely responsive and reliable.
The mouse features an ergonomic design with its swift edges to ensure comfortability. It's slightly heavier than its most fierce rivals at 0.21 pounds (96 grams), but that's still a good weight for a mouse.
The Mamba is equipped with a 5G sensor that polls up to 16,000 DPI. This advanced optical sensor ensures accurate tracking. There are a total of seven buttons that you can program through Razer's software, too.
You can game up to 50 hours without needing to charge your Mamba, but turning off the lights of the Razer logo and the mouse wheel may allow you to get more out of your battery.
Approximate size (HxWxD): 125 mm (4.92 in) x: 69.85 mm (2.75 in) x: 43.18 mm (1.7 in)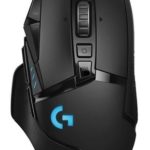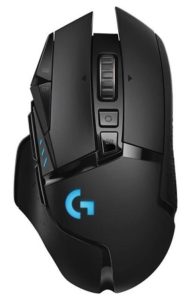 There are a couple of mouse designs that have become cult classics in the gaming community. The first is Razer's iconic Deathadder design, while the other is Logitech's MX518.
Though Logitech re-introduced the legendary mouse as a part of its G series, the 500 line has been its successor for a decade. The G502 Lightspeed takes the successful formula and cuts the cables. It features the 16,000 DPI HERO sensor, like the other top mouses from the company,
It comes with a total of 11 buttons and a grippy side to make it easier to hold onto your aim in the most intense situations. The mouse itself weighs 0.25 pounds (114 grams) and you can further adjust it with the included weight set.
Approximate size (HxWxD): 132 mm (5.2 in) x:75 mm (2.95 in) x:40 mm (1.57 in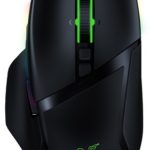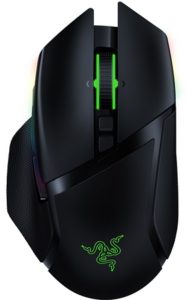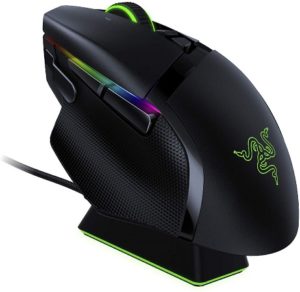 Switching to an all-wireless setup may look expensive, but cutting corners can also come back to haunt you. The Razer Basilisk Ultimate is one of the most complete wireless gaming mice on the market, alongside Logitech's G Pro wireless.
The mouse rocks Razer's Focus+ sensor, which was developed with Pixart, an industry legend when it comes to sensors. Thanks to its 99.6 percent resolution accuracy and 20,000 maximum DPI, Razer Basilisk Ultimate is also an excellent choice for artists. It has an estimated battery life of 100 hours, making it a strong contender for anyone who cares about battery life the most.
You'll also be able to adjust the 11 programmable buttons however you like with Razer's software if you decide to go for it.
Approximate size (HxWxD): 129.79 mm (5.11 in) x: 75.18 mm (2.96 in) x: 42.41 mm (1.67 in)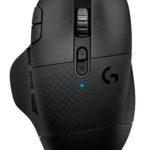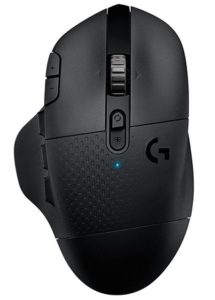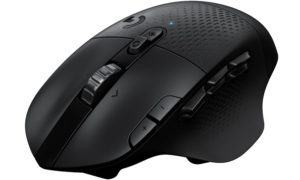 All the options we've covered so far come with customizable buttons, but most feature only two to three switches around where your thumb would be. This makes them less than ideal if you're playing MMORPGs, like World of Warcraft and The Elder Scrolls Online.
But the Logitech G604 Lightspeed Gaming Mouse features the HERO 16,000 DPI sensor and has 15 programmable buttons, with six being easily reachable with your thumb. The matte finish of the mouse gives it a grippy feeling that's always welcomed in the most challenging raids.
It uses a AA battery instead of the traditional rechargeable route and the mouse weighs 0.34 pounds (155 grams) with one inside. Using a AA battery is undoubtedly a downgrade for anyone who's afraid of running out of juice while playing. But Logitech claims the G604 can go up to 240 hours straight in its LIGHTSPEED gaming mode, while a single battery will be enough for 5.5 months with regular Bluetooth.
You can still get the best out of the G604 by continually switching between modes depending on your usage and getting rechargeable AA batteries to reduce waste.
Approximate size (HxWxD): 130 mm (5.12 in) x: 80 mm (3.15 in) x: 45 mm (1.77 in)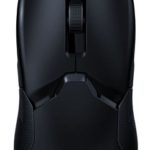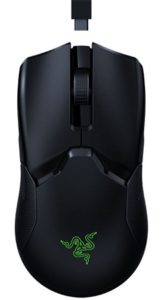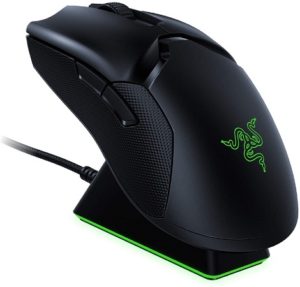 Despite its rather small size, compared to the rest, the Razer Viper Ultimate is one of the best options on the market for both claw and fingertip grip users.
The mouse uses the Razer's Focus+ optical sensor that polls up to 20,000 DPI. Combined with a 99.6 percent resolution accuracy and a 650 IPS tracking speed, the Viper Ultimate becomes a must-have weapon for all tactical shooter and battle royale enthusiasts.
There are a total of 10 programmable buttons scattered around the mouse. The Viper Ultimate comes with a charging station that also doubles as a receiver that amplifies its range. It only weighs 0.16 pounds (74 grams) and its battery can last for 70 hours straight.
You can also use the Viper Ultimate in its wired mode while charging it. The cable adds around 0.07 pounds (34 grams) to the mouse's total weight, though.
Approximate size (HxWxD): 126.49 mm (4.98 in) x: 66.29 mm (2.61 in) x: 37.84 mm (1.49 in)
---
Though we would've liked this list to be more diverse, there's a reason why it turned out to be a Logitech vs. Razer standoff. Both companies are miles ahead of their competition when it comes to wireless gaming products and we must give credit where credit is due.
This article includes affiliate links, which may provide small compensation to Dot Esports.