This is the year of full spectrum RGB lighting. It's nearly impossible to find a keyboard (or any PC component) without a rainbow's worth of colorful backlighting.
While colorful LEDs are certainly pretty, there are other obviously plenty of other, far more important factors to take into consideration when choosing a keyboard for competitive gaming. Are you looking for extra keys for special bindings? Easily accessible media controls? A clean design? Extra clicky keys?
If you want extra clicky keys, you're likely looking for a keyboard that has switches labeled tactile. Tactile keys give confirmation of a click once it hits the actuation point—or the moment the stroke is registered with your computer. Linear switches, by comparison, have a more consistent feel: There's no big click that lets you know the key has been fully realized. This makes the keyboard much quieter than tactile keyboards. Both work well for gaming, but feel quite different than a regular, non-mechanical keyboard.
Our rundown of our favorite mechanical keyboards for competitive gaming has something for everyone.
Razer BlackWidow Chroma V2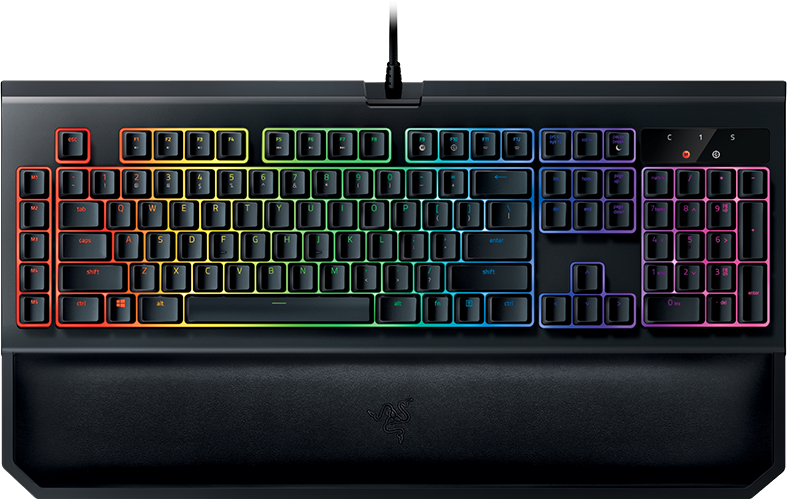 Razer has been a staple in competitive gamers' equipment bags for a while now. The Razer BlackWidow Chroma V2 is not only beautiful, but durable and precise, too. Three options for key switches are available: Green, Razer's tactile and quick switch with a sharp actuation point, which makes this its loudest, mostly clicky keyboard; Orange, Razer's tactile, quiet switch; and Yellow, its linear switch with a quiet, smooth keystroke—the quietest of them all. The BlackWidow Chroma V2 is the first Razer keyboard to include the Razer Yellow switches. All of these switches, however, have a great response time and are great options, so you'll want to choose based on how clicky you like your keys.
With this iteration, Razer added a magnetic wrist rest—it's very cushy and a nice way to reduce wrist strain. Five programmable keys are also included on the left side of the keyboard. For $169.99, Razer's BlackWidow Chroma V2 is no more expensive than the V1.
Pros: Extra macro keys, programmable backlit keys, heavily customizable
Cons: Expensive
Who should buy: Gamers looking to prioritize style and customization
Price: $169.99 on Amazon
SteelSeries 6Gv2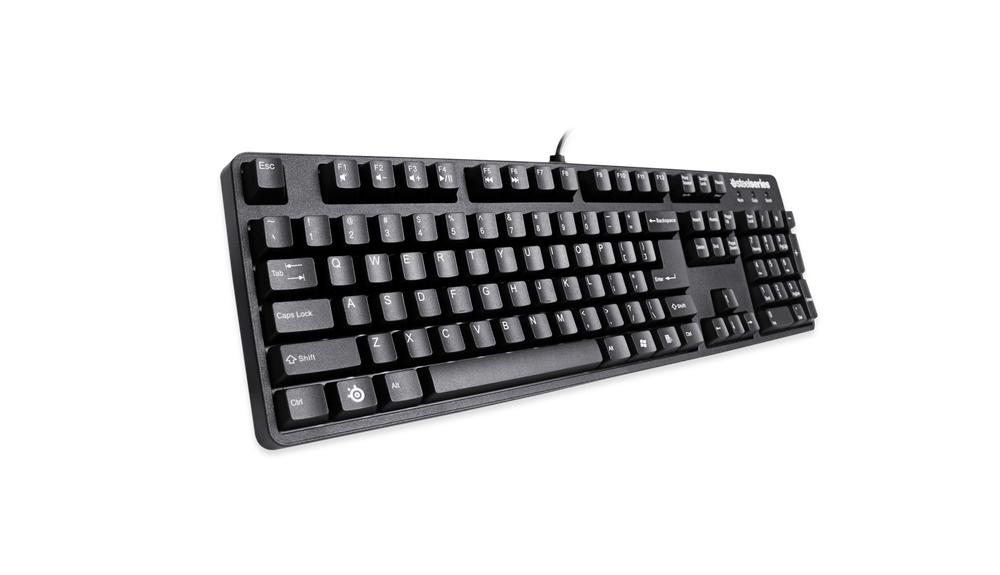 SteelSeries 6Gv2 is simple and clean. It lacks extra features that gamers have come to expect, like programmable macro keys, but makes up for that in its reliability and build quality. It's low profile and nothing fancy, but still a keyboard you can count on.
It's available with Cherry MX Red or Black switches, both of which are linear type switches, meaning there is no tactile feedback—these are much quieter than Cherry MX Blue switches. With no backlighting option, SteelSeries 6Gv2 costs $78.65, making it one of the more affordable options out there.
Pros: No frills, clean design
Cons: No backlighting
Who should buy: Gamers interesting in a simple, sturdy keyboard for a good price
Price: $78.65 on Amazon
Corsair Vengeance K95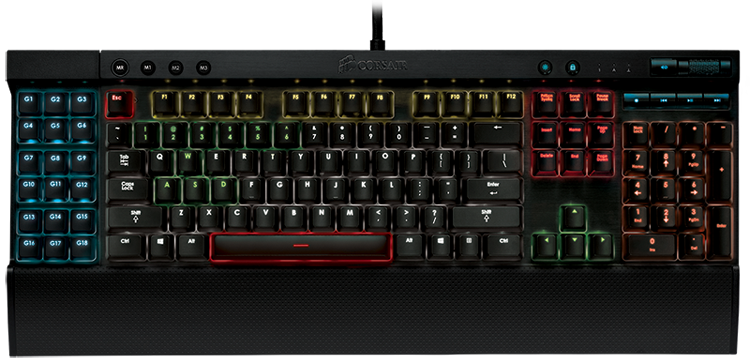 You can call the Corsair Vengeance K95 luxurious. It's got everything from a whopping 18 programmable macro keys to robust RGB backlight customization. With Cherry MX Red switches, the keys are easy to press, precise, and still pretty quiet. Each and every key can be programmed to its own RGB color using Corsair's lighting software making this one of the most customizable keyboards out there.
An aluminum body keeps the keyboard lightweight—perfect if you're traveling to tournaments or LANs—without compromising its durability. For $169.99, it's one of the more expensive options, but worth it if you're willing to shell out.
Pros: Extensive customization, high quality key switches, 18 dedicated macro keys
Cons: Expensive
Who should buy: Gamers who are looking for the top of the line
Price: $169.99 on Amazon
CM Storm QuickFire TK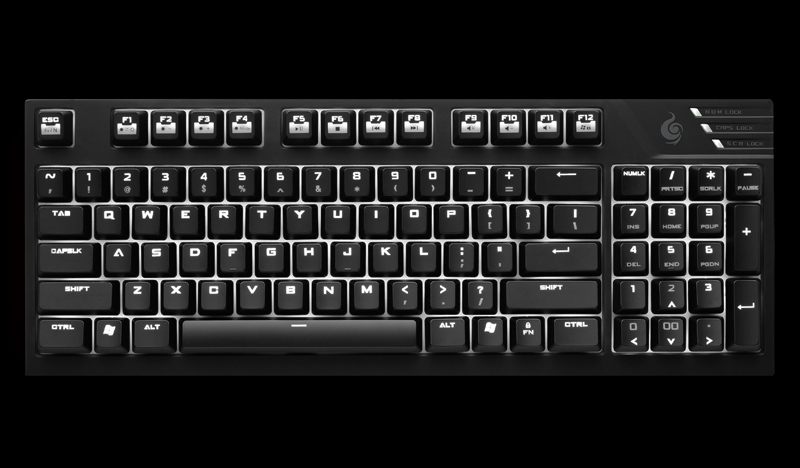 Cooler Master's CM Storm QuickFire TK is compact, but keeps a complete numpad in there without taking up extra space. You're able to get the keyboard with any Cherry MX keys available, which is nice for those of us picky about our clicks.
The keyboard is fully backlit, but with much less customization than other keyboards. Three different lighting modes along with five levels of brightness are offered, however. It's nothing fancy, but not everyone wants something fancy. At $75.00, it's a great deal.
Pros: Compact, clean design, high quality switches, great price
Cons: Single color backlight
Who should buy: A no frills keyboard for gamers who need only the bare essentials
Price: $75 on Amazon
Ducky One

Ducky is known for its quality keyboards, with some of the cleanest designs available. The Ducky One does not stray from that—it's the best looking minimal keyboard.
Each key is individually backlit with six different lighting options. Ducky manages to keep customization options available without cluttering up the clean design with extraneous components. Like some of the other keyboards on this list, Ducky One is available with plenty of different Cherry MX switch options.
Pros: Clean design, customization options, high quality switches
Cons: No RGB lighting
Who should buy: Gamers who want a solid keyboard but don't care about colorful RGB lighting
Price: $118 on Amazon
Logitech G810 Orion Spectrum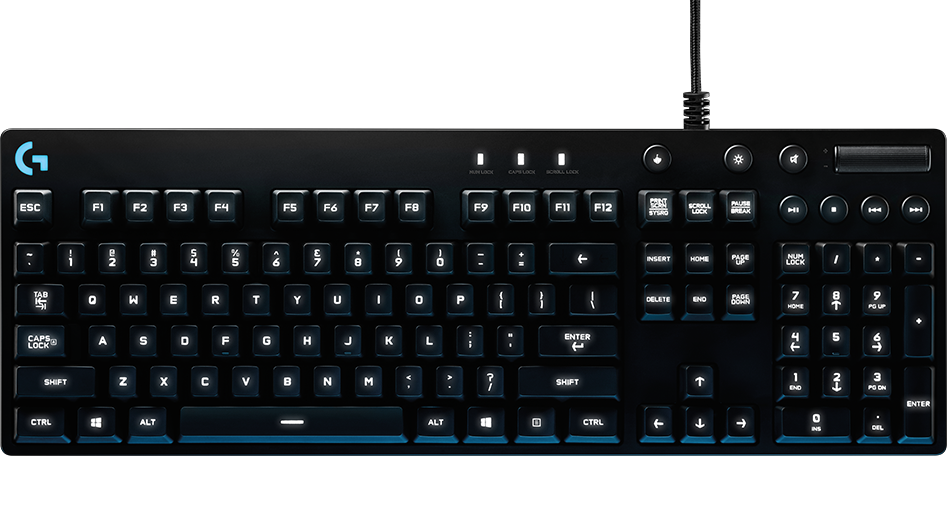 Logitech is an industry staple, always setting a standard for what a solid, reliable peripheral can be. It's been around forever, and the Logitech G810 Orion Spectrum is one of its most stunning options yet. It's got everything—matte surface for masking fingerprints, extensive RGB lighting, braided cables, and its own exclusive mechanical switches. Yep, like Razer, Logitech offers its own mechanical switches. They're pretty different in the way they feel and sound when compared to Cherry MX switches, so if you're able to try a Logitech keyboard out before buying, we'd recommend it. Romer-G is exclusive to Logitech.
The G810 Orion Spectrum also has unparalleled media control built into the keyboard, using a variety of buttons and a scroll wheel to make multitasking incredibly easy.
Pros: Full size keyboard, great media controls, exceptionally customization, Romer-G switch lighting
Cons: No USB port
Who should buy: Gamers unsatisfied with Cherry MX or Razer switches may like the softer feel of Romer-G keys
Price: $115.34 on Amazon