While it isn't the first thing that comes to mind when building a PC, a comfortable gaming desk can potentially raise the quality of a gaming experience better than some hardware upgrades. Having enough space for monitors, peripherals, mouse movement, and your morning coffee is more of a necessity for a stress-free gaming experience than many gamers realize.
When hunting for a bargain, it can be difficult to know which desks are cheap and which are quality products that will last for years. The following desks are the best options available for gamers on a budget in 2021.
Best overall desk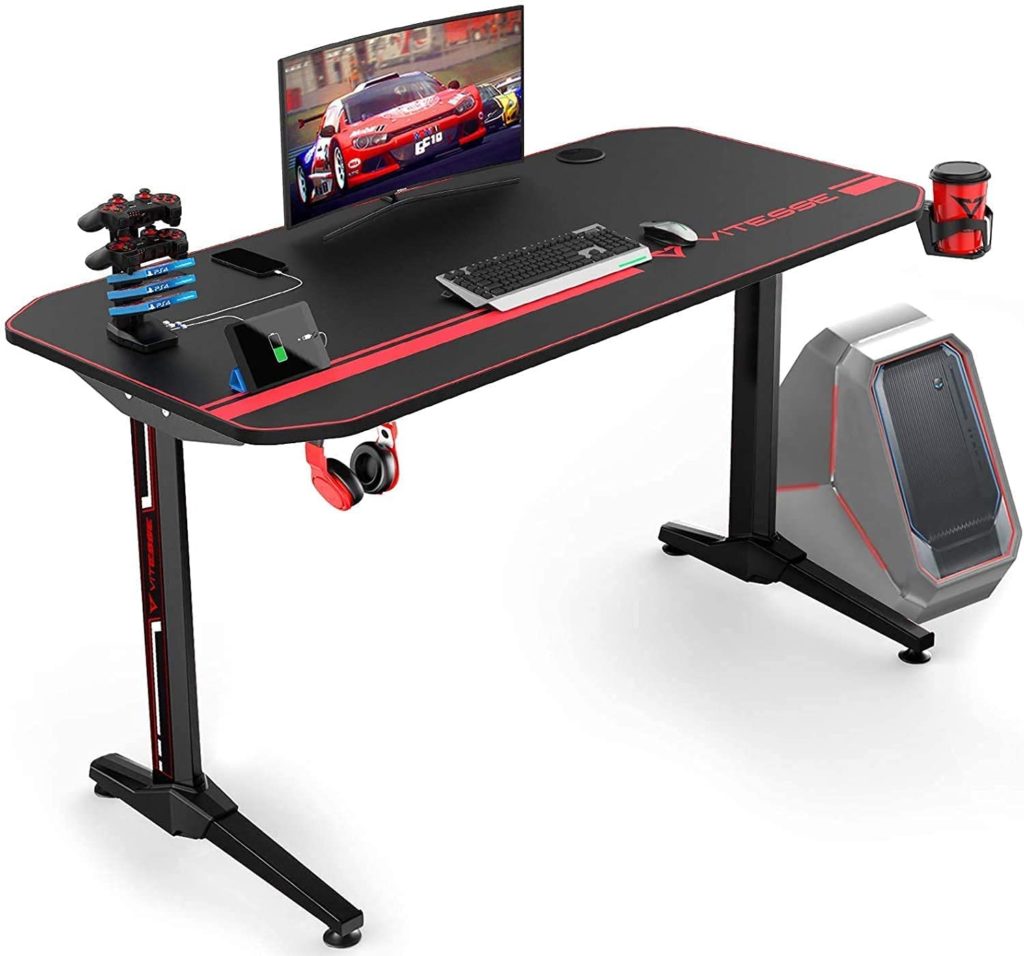 The VIT gaming desk is a go-to option for those who want a desk that's strictly branded for gamers. At 44 inches wide, 23.6 inches deep, and 29.5 inches tall, it's a desk with enough space to handle the majority of setups with one to two monitors, along with all of the associated peripherals.
As a cherry on top, the desk comes with a sleek red and black design, a headset rest, a charging kit, a cup holder, and a mouse pad specifically made to cover the entirety of the desk. With this desk, not having enough room to pull off those flick shots is a thing of the past.
Best L-shaped desk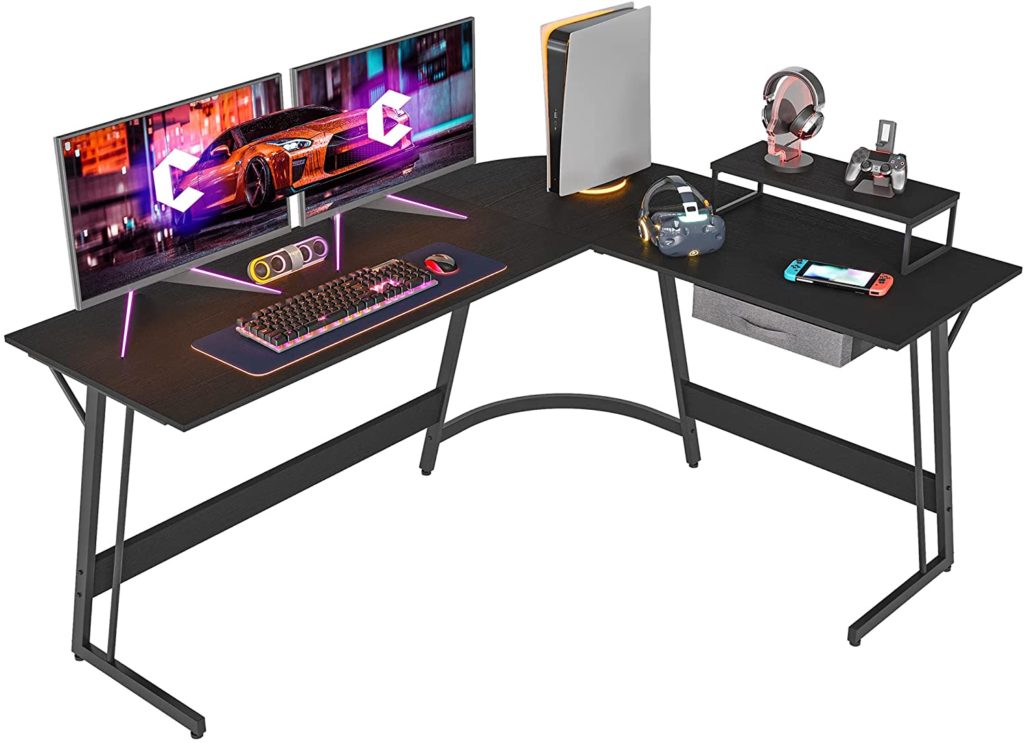 While not strictly advertised for gamers, the CubiCubi Modern L-shaped desk is as spacious as desks come for under $100. The desk is made of metal and particle board, like many options out there. Measuring in at a total of 59.1 inches long with a depth of 18.2 inches, there's no better budget desk for setting up multiple monitors and peripherals. This makes the CubiCubi L desk perfect for a streaming setup or for the gamer with a heavier, multi-monitor setup. 
Best standard desk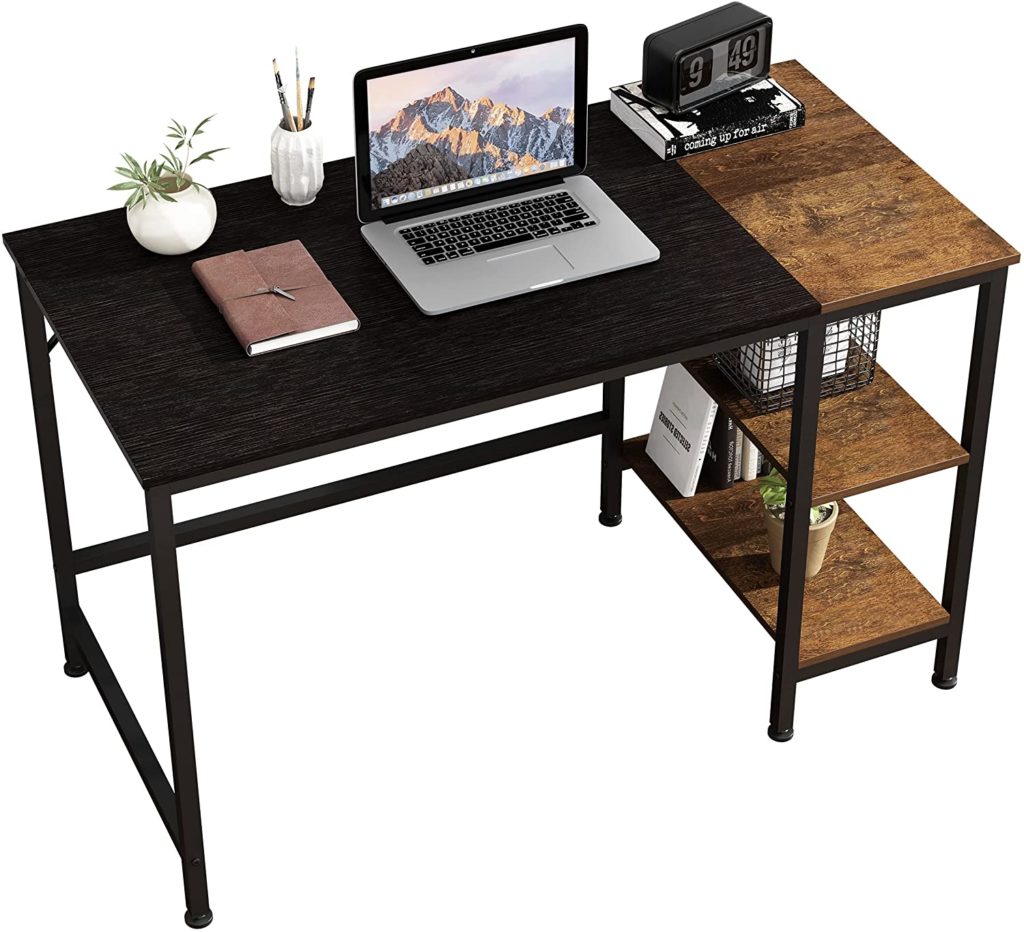 If spending a little extra on an L-shaped desk doesn't suit your needs, the Joiscope home office computer desk is an option for the more standard, rectangular office desk that's easier to fit into the average room space. 
It measures 47.24 inches in width, 23.62 inches in depth, and 29.53 inches in height. While not as wide as your average L-shaped desk, which has the advantage of an extra corner attached, this Joiscope desk is still spacious. This desk has considerable depth, making it more than functional for large mouse movements next to peripherals and a two-monitor setup.
Best monitor stand desk
This desk from Flash Furniture is what we expected to see from desks in this price range. It's a small desk made of laminate with a coated metal frame. It measures 51 inches in width, giving it a nice length for such an inexpensive desk. It caters to gamers with a cupholder and elevated stand for a monitor. If the L-shaped desk doesn't appeal to you, this would be a good option.
The Flash Furniture desk has two colors: black (pictured) and a red version. The red version is moderately more expensive, putting it slightly above our cut-off price.
Best storage desk
The AuAg 39-inch desk is a compact desk with a few convenient features. This desk comes in two sizes: 39 inches and 47 inches—both of which are below our cut-off price. Other than the size, the two are the same and are in the same listing, so we will cover the features for the smaller, cheaper desk.
The top of the desk is made from engineered wood, while the frame is metal. It can hold a single monitor (the larger may be able to fit more). It has a storage bag and a hook. While these were not designed with gamers in mind, they fit well with gaming needs. The hook can hold a headset, while the storage bag could hold controllers or any physical games. During assembly, you can place them wherever you'd like.
This article includes affiliate links, which may provide small compensation to Dot Esports.