Apex Legends is celebrating its second anniversary with the Aniversary Collection Event starting next Tuesday, Feb. 9, Respawn announced today.
In addition to a new collection, the party is bringing a new game mode takeover called Locked and Loaded, which will have players drop into the arena with fixed gear (including a Mozambique, of course).
Moreover, the Anniversary Collection will bring recolors of popular cosmetics for each legend with shades of gold and crimson, as well as a loot box-filled free rewards track. But players only have until Feb. 23 to grab it before the event ends.
New game mode takeover: Locked and Loaded
It's not an Apex event without a limited-time mode and Respawn is bringing in the Locked and Loaded takeover this time. In the new mode, players will drop in with a full loadout of white gear, two syringes and shield cells, and a Mozambique. All attachments and equipment that spawn will be blue-rarity or better, with the exception of sights.
Locked and Loaded will replace the normal playlist, similar to the Airdrop Escalation Takeover in Fight Night. This means that for the duration of the event, all casual matches will take place under the Locked and Loaded ruleset. Ranked games, however, will remain the same.
Anniversary rewards
Respawn is feeling particularly generous during the event. Players can get their hands on a dozen Apex Packs for free between Feb. 9 and Feb. 23—including two event ones—as well as an extra pack just for logging in.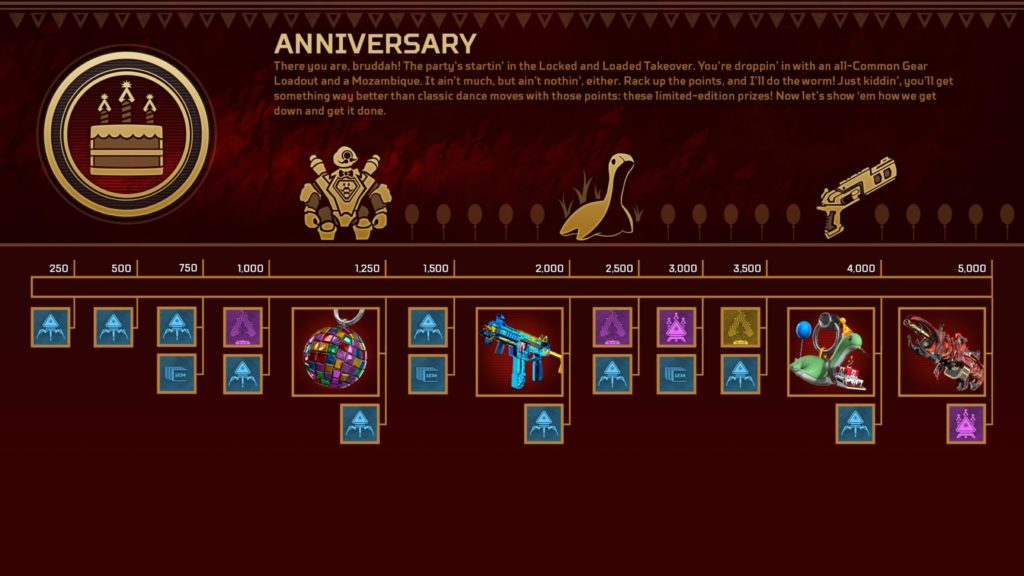 The event's prize track awards a series of Apex Packs (seven of them in the first 2,000 points alone), as well as two gun badges, a rare skin for the R-99, and a legendary visual for the Spitfire. In addition, the official blog post mentions "seasonal challenges" that offer a series of rewards. It's unclear how long they'll last, however.
Completing 75 Daily Challenges awards the Daily Discovery Nessie badge. The Mozambique Badge is locked behind the Respect your Elders challenge by dealing 102,816 damage—a nod to Titanfall 2's release date. Staying alive with eight legends unlocks the Smolfinder badge and dealing 3,333 damage with the Mozambique awards the "Mozambique here" gun charm.
Anniversary Collection
The celebrations are bringing in a slew of cosmetics with a twist: Respawn has recolored them with a "gold and crimson" touch. Popular visuals, such as Wraith's Void Prowler and Bloodhound's Wise Warrior, got an overhaul and will be available in the Item Shop—and they'll be available at a discount if you have enough crafting mats. Respawn will halve the cost of crafting the collection skins to make it easier to get an event reward—and this time, it's a big one.
The big prize for completing the Anniversary Collection is 150 heirloom shards—enough to acquire an heirloom of your choice. The crafting material discount and the event pack bundles could bring players a little closer to owning the heirloom they've been chasing for so long.